A gathering of people take their seats in a function room in downtown Shanghai on a Tuesday evening. It's a mixed crowd. Old and young, smart professionals and students sit side-by-side in tightly packed rows. Some work in the food industry, others in policymaking. Some are just curious, but all share a common interest in rethinking the way society feeds itself.
China is at a crossroads in terms of its eating habits. Since the 1980s, and the start of the economic reform period, the growing middle classes have embraced a meat-rich diet, leading to a boom in pork, chicken and beef production. Today, it's a dietary staple for households which still remember when meat was an expensive and scant resource.
China's daily pork intake far exceeds that of the United States (see table below). And while the average person eats less beef than their American and European counterparts, they're catching up fast.
Meat consumption across the globe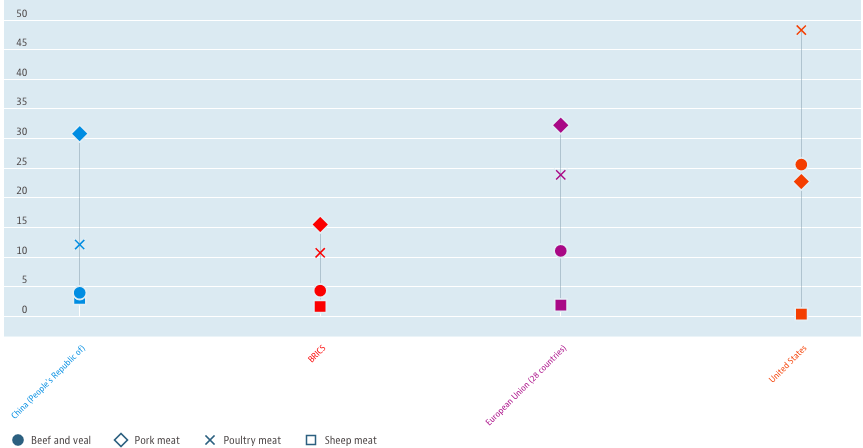 Source: OECD-FAO Agricultural Outlook (Edition 2017). Y axis: yearly meat consumption in kilograms per capita. (Click image to enlarge.)
The domestic farming sector has responded to the shift in people's eating habits. It now produces 48% of the world's pork. Chicken and beef farming are also on the rise, albeit more slowly. Small farms are being replaced by large industrial conglomerates.
The expansion of intensive meat farming is putting a strain on natural resources. China raises almost half of the world's pigs but only has 10% of its usable agricultural land and 7% of its fresh water resource. Water scarcity affects 11 provinces in the north.
Pollution is another big concern. Brighter Green, a US thinktank, estimates that only 3% of sewage from large to medium farms is treated, creating vast flows of effluent that enter human water supplies. And the overuse of antibiotics is leading to a rise in antimicrobial resistance in humans.
These impacts could jeopardise President Xi Jinping's vision of an "ecological civilisation" and "beautiful China". The Big Farming model of the West is therefore not necessarily desirable for China, let alone inevitable.
Safety concerns
At this talk, organised by the Good Food Fund, the crowd is not here to debate big farming. They're interested in the changing relationship between food and health, and how their eating habits compare to those in the US. There's a perceived knowledge gap.
They want to know how food supply chains can be made safe and secure. Is genetically modified food good or bad? Should we worry about excessive water usage? Is corn-fed beef better than grass-fed?
The talk is a microcosm of the wider concerns about food and the environment playing out in China right now.
Rafi Taherian, associate vice president of Yale Hospitalities and a food specialist, is here on a tour that will take him to universities in Beijing, Hangzhou, Shanghai, Chengdu and Changsha. He will share his experience of introducing "sustainable" menus (which he defines as "food that is good for you and good for the planet") onto Yale University's campus.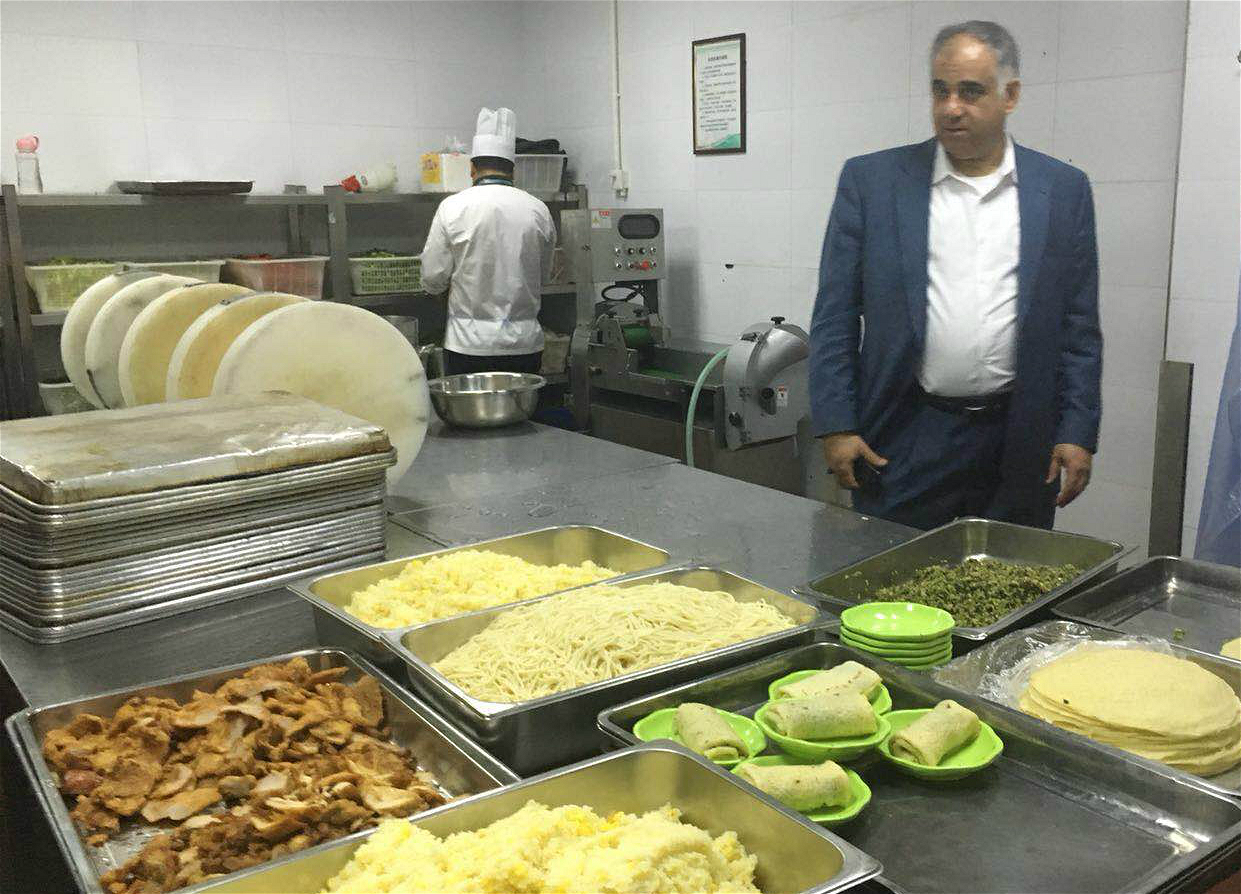 Rafi Taherian inside the kitchen of Southern University of Science and Technology, Guangdong province. (Image: Good Food Academy)
Taherian's message is that our global food systems need reforming. And he believes that the most progressive ideas for doing this will come from university dining halls, not laboratories.
America's adoption of fatty, processed "food products" over the past 40 years has led to a national health crisis. More than one third (36.5%) of US adults are obese. Obesity-related conditions, including heart disease, strokes, type two diabetes and certain types of cancer, are among the leading causes of preventable death, according to the US Center for Disease Control and Prevention.
Treating chronic illness comes with a staggering price tag. America spends US$190 billion a year treating obesity; US$14 billion is spent on children alone.
According to Taherian, the big problem is our love affair with processed food. The genesis of processed production started in the US following World War II, taking off in the 70s and 80s with the introduction of agricultural subsidies, which made it lucrative for farmers to mass produce corn and soy needed to feed livestock.
"Now all of a sudden meat is cheap. And the meat industry is bombarding people with the message that beef is for breakfast, beef is for lunch, beef is for dinner. You have frozen meatloaf and frozen this and that. They hired food technologists who said if you add sugar, fat and salt to these dishes in excessive amounts then you create food dependence. Food in essence became a drug."
So is it possible to wean ourselves off processed food, and is China already hooked?
Less meat, more greens
In the US consumers are buying less meat. For the last two years American beef industry profits have fallen. The nutritional requirements of millennial and post-millennials are different to their parents. According to a Pew survey, they want less meaty meals and consider planetary health when making food choices.
Taherian says healthy food campaigns do influence the attitudes of young people. He shows slides of Yale's posters of peas, described as "petite, playful and well rounded". Kiwi fruit are labelled "exotic, stylish and friendly". These may or may not have influenced Yale's conversion but around 80% of food now served on campus is vegetarian and a growing proportion is vegan. This trend has taken root in a "small but fast-growing minority" of American universities, says Taherian.
In China, young people are similarly seen as agents of change, and universities could emerge as the incubators of new ideas.
Unlike in the US, the Chinese government has taken a direct hand in recommending people eat less meat to conserve natural resources. Dietary guidelines of the Chinese Nutrition Society suggest limiting annual meat consumption to a maximum of 27.4 kilograms per person, compared to current average of 63 kilograms.
Environmental groups have got on board (along with Arnold Schwarzenegger). WildAid has launched a campaign to encourage youngsters to eat more veggies and help the planet. Celebrity endorsement from actors Angela Baby and Huang Xuan seeks to make the move fashionable instead of just worthy or onerous.
The messages have been aired on national TV and China's leading online video sites, reaching hundreds of millions of people. And the traditonal link between vegetarianism and Buddhism has been played down so as not to alienate non-religious groups.
In Shanghai, the trend for "eating sustainably" is already visible. Misshapen vegetables are celebrated and scoffed heartily at "ugly food parties" in a move to highlight food waste; while organic restaurants and juice bars have sprouted in shopping malls. The Impossible Burger (a Californian faux meat burger that claims to taste like the real thing) will launch in Asia later this year.
"Speaking here I see people want to know more. They see obesity as an American problem. But in the canteens here I've seen food that's seen as healthy but is actually processed."
China doesn't have an obesity crisis but it is moving in that direction. Meanwhile, its environment is struggling to cope with the changes brought about by intensive meat production. Change is needed and the young people at this talk will be crucial to making it happen.
This event was organised by Good Food Fund at the China Biodiversity Conservation and Green Development Foundation. For more information see the Good Food Academy.