At a coal and gas conference in Bismarck, North Dakota, in May, US President-elect Trump hinted at a bright future for fossil fuels.
"We have more natural gas than Russia, Iran, Qatar and Saudi Arabia combined. We have three times more coal than Russia. Our total untapped oil and gas reserves on federal lands equal an estimated US$50 trillion. Think of that. We're loaded. We didn't even know it. We're loaded!" he told an excitable industry crowd.
But Trump's bullish tone on coal belies an economic fiction. While the property developer-turned-president has promised to deliver new jobs by ridding the coal industry of the restrictive regulations introduced by the Obama administration, the reality is that global market forces make this almost impossible.
Coal utilities are closing down in America. Peabody Energy, the world's largest privately owned coal producer, filed for bankruptcy in 2016, becoming the 50th US coal producer to do so in recent years.
The sector is losing around 10,000 jobs per year in the US. And not because it lacks the land or permits to grow but because it is no longer profitable to do so.
Wind and solar now support more jobs in the US than fossil fuels, according to data from the Department of Energy. And globally, renewable power was the largest source of newly installed energy capacity in 2016.
According to a new report released by the US Department of Energy, the coal sector employs about 160,000 people in mining, extraction and generation. However, generation from coal has declined 53% since 2006. This will continue, with the loss of jobs being offset by growth in natural gas and renewables. The solar sector employs just under 374,000 people and increased by 25% in 2016. Similarly, wind employs 102,000 people and increased by 32% in 2016.
Change in power generation by energy source in the US (Thousand MWh), 2006 – Sep 2016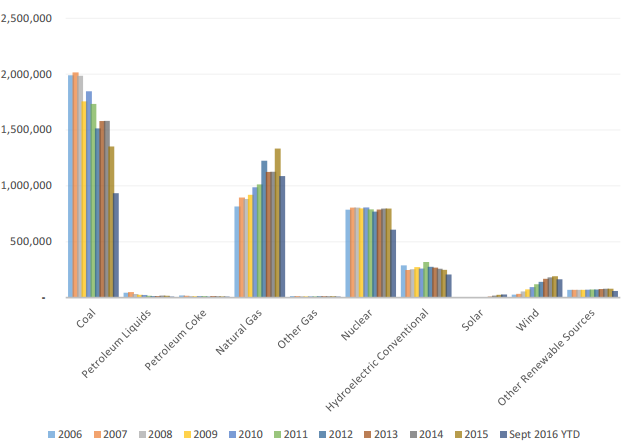 Data source: US Department of Energy
The agenda
Trump's cabinet appointments, which are taking place this month, indicate that the green economy is a low priority for the new administration whereas encouraging further shale and coal expansion and cancelling restrictions on production are high on the agenda.
The appointment of new secretary of state Rex Tillerson, a former general manager of ExxonMobil oft described as "big oil personified", comes amid a season of disgrace for Exxon, which is under investigation for hiding knowledge dating back to the 70s on the impact of burning fossil fuels on the climate, while funding organisations to counter the scientific consensus that climate change is real.
"Climate denier" Scott Pruitt, has been nominated new head of the Environmental Protection Agency (EPA), an institution which he has devoted part of his career to dismantling. Meanwhile, the appointment of former Texas governor Rick Perry to head the Department of Energy has raised eyebrows given his declaration in 2011 that he would abolish the department given the opportunity.
These controversial appointments signal that Trump is seeking to hobble the EPA and roll-back environmental legislation introduced by Obama over the past eight years.
On the chopping block
Trump has threatened to "cancel" the Paris Agreement to limit global warming, which was signed by almost 200 countries and ratified at record speed in 2016; and to tear up the Clean Power Plan, a historic step in reducing carbon pollution from power plants.
Also on the chopping block is the removal of a ban on coal leasing on federal lands, and regulations to curb methane emissions from the oil and gas sector and prohibit coal-mining companies from engaging in activities that pollute drinking water.
The risk
So how big a risk is the Trump administration to climate action?
"Since 2007 primary energy consumption has fallen by 2.4% while economic growth has increased by 10%. We will be looking to the US to continue the forward momentum on the transition towards clean energy globally. Moving away from that commitment would risk isolating the US politically and economically, and losing that global leadership which has been the hallmark of the US in recent times," said Paula Caballero, global director of the Climate Program at the World Resources Institute.
In Washington, military and security experts are concerned by the lack of recognition of climate change as a security threat.
"Climate change is the primary issue that we need to tackle from a national security perspective," said Brigadier General Stephen Cheney, CEO of the American Security Project, a research organisation dedicated to national security issues.
"When you look at the confirmation hearings there were some questions on it but not enough in my opinion. And some of the responses are a bit troubling," said Cheney, referring to Rex Tillerson's refusal to recognise climate change as an imminent security threat.
"I am deeply concerned by Rex Tillerson's appointment as secretary of state," he added.
However, others such as General "Mad Dog" Mattis, have recognised climate change as a driver of political instability.
Earlier this week, Mattis noted that he sees climate change opening up sea lanes in the Arctic. He also suggested that the US needs to protect its interests in that region, and that the Department of Defense should reduce its dependency on fossil fuels. The underlying concern is that climate change may lead to an increase in climate refugees that in turn will increase the risk of conflict.
Business momentum
Should America step back from its commitment to fight climate change internationally, the news will be greeted sourly by trade partners in Europe.
"We have passed a tipping point in the economy of tackling climate change. It is increasingly clear that countries that do not will be left behind in the innovation race and creation of new technologies," says Edward Davey, former UK Secretary of State for Energy and Climate Change.
Meanwhile, China is poised to become leader of the "clean power age" and has already assumed leadership in deployment of clean technology and global financing. A recent report from the Institute for Energy Economics and Financial Analysis revealed that China invested a record US$32 billion (220 billion yuan) in overseas renewable energy and related technologies last year, marking a 60% year-on-year increase in spending.
If we see the US backing away in one way or another, investment in renewables will go elsewhere. India and China have been opening up their market for green financing in readiness.
Despite the investment momentum in renewable technologies, the Trump government risks wasting taxpayer money on fossil fuel subsidies that could delay US action to decarbonise the economy. And that may not be part of Trump's plan to provide well paid jobs and help business expand their exports.