China has an opportunity to peak its carbon emissions as soon as 2023, according to a recent research paper in the environmental science journal Resources, Conservation and Recycling.
China accounts for one quarter of global CO2 emissions, so the timing of the country's carbon peak is crucial for the whole planet.
The authors of China's energy revolution strategy into 2030 argue that by moving faster to deploy energy saving technology and restructure the manufacturing sector towards high-tech, high value added industries and light industry, China's carbon emissions could peak much earlier than the official goal of 2030.
Carbon deadline
Global carbon emissions must start falling in 2020, climate researchers say, or the world will face catastrophic consequences, including rising sea levels and worsening extreme weather events. Former chief UN climate negotiator Christiana Figueres launched the Mission2020 campaign in June to publicise the urgency of the situation.
The closer China's peak is to 2020, the better chance there is of the world achieving peak carbon in that year, as Yang Fuqiang, senior advisor to the National Resources Defense Council, pointed out ahead of the Paris Agreement two years ago.
However, researchers have made wildly differing predictions on when China will reach peak carbon.
The Global Carbon Project's latest study says China's CO2 emissions are rising again after holding steady for three years, and will grow by 3.5% in 2017, driven by increased coal use and infrastructure construction. GCP released the study at last week's UN climate talks in Bonn.
In contrast, a 2016 a report from the Grantham Research Institute on Climate Change and the Environment and the ESRC Centre for Climate Change Economics and Policy at the London School of Economics held that China's carbon emissions had already peaked in 2014. Earlier research from the Lawrence Berkeley National Laboratory in the US forecast a peak between 2025 and 2030.
One factor in the most recent uncertainty is that China's coal use was thought to have plateaued in 2013.
Testing the pledges
This new piece of research is a joint effort between Yuan Jiahai, a professor at the School of Economics and Management at the North China Electricity and Power University, and Liu Qilin, visiting researcher at the University of Pittsburgh's Asian Studies Centre, plus Qi Lei of Guangzhou Power Supply Co, and Huiming Xu of the State Grid Information Centre. It focuses on China's energy consumption.
CO2 accounts for 77% of greenhouse gas emissions worldwide, and 90% of CO2 emissions come from energy consumption, so CO2 emissions from energy consumption are therefore the key to mitigating climate change.
In 2015, China became the first major developing nation to commit to a carbon peak, by submitting its voluntary nationally determined contribution to the UN ahead of the Paris climate talks. It pledged to push for peak carbon by 2030, and cutting carbon intensity – the amount of carbon produced for a unit of energy – by 60%-65% on 2005 levels. Analysts considered this an achievable target, with some seeing headroom to reach 70%.
Next came the China Energy Revolution Strategy 2016-2030, published in April by the National Development and Reform Commission, reiterating China's commitment.
The researchers scrutinised China's national goals against current performance, and predicted that by 2030 carbon intensity may be 65%-67% lower on 2005 levels – marginally beating the target of 65%, set in the official climate commitment,
Under this scenario, China's carbon emissions from energy consumption would still increase by 0.9% a year between 2020 and 2030, reaching 11.31 billion tonnes in 2030. "That means China may see peak carbon in 2030, but there is little chance of it happening earlier," the report says.
"China's 2030 climate commitment did not meet the expectations of the international society," noted Yuan Jiahai. "There is no doubt that China can achieve its 2020 and 2030 energy revolution goal, but these goals are not challenging enough to motivate China to go the extra mile."
Coal conundrum
The paper notes that the China Energy Revolution Strategy 2016-2030 assumes China's coal consumption will rise slowly up until 2030. Between 2013 and 2016 actual consumption of coal dropped 10.9%, though it has since resumed rising. Changes in coal consumption will have a huge impact on emissions performance.
Yuan Jiahai told chinadialogue that China's carbon intensity fell 20% between 2006 and 2010, and 21.8% between 2011 and 2015.
Ambitious scenario
The paper argues that China is capable of lowering energy consumption further and achieving more ambitious energy and carbon intensity targets, meaning an earlier carbon peak around 2023.
The researchers obtained this outcome by modelling the impact of what they call "the ambitious energy efficiency scenario", an optimal scenario based on rapid economic restructuring, albeit fully in line with existing policies. It envisages an accelerated transition in the manufacturing sector towards high-tech, high value added industries, light manufacturing, and greater use of energy saving technologies.
This strategy could bring GDP carbon intensity down by 71% from 2005 levels by 2030, and reduce coal consumption to 9.9 billion tonnes – 12% less than the NDRC's scenario.
The ambitious energy efficiency scenario would also see carbon emissions from energy consumption effectively stop increasing on 2005 levels between 2020 and 2025, with a peak and plateau from as early as 2023.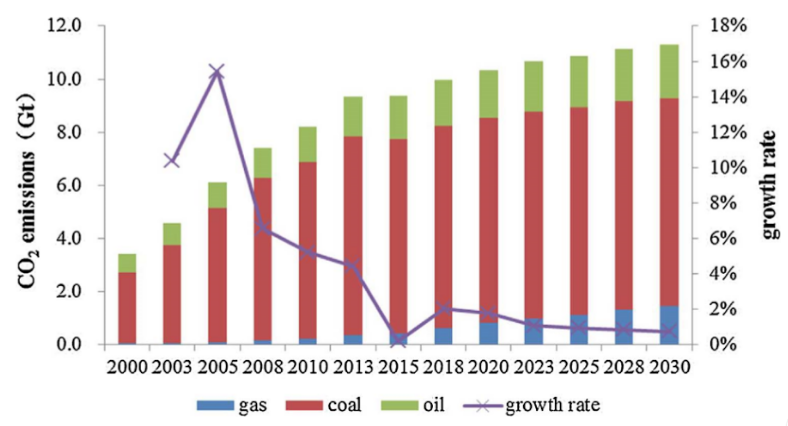 China's CO2 emissions by energy use under the Energy Revolution Strategy scenario, 2000–2030. Source: Authors' calculation based on NDRC (2017) and NDRC and NEA (2016).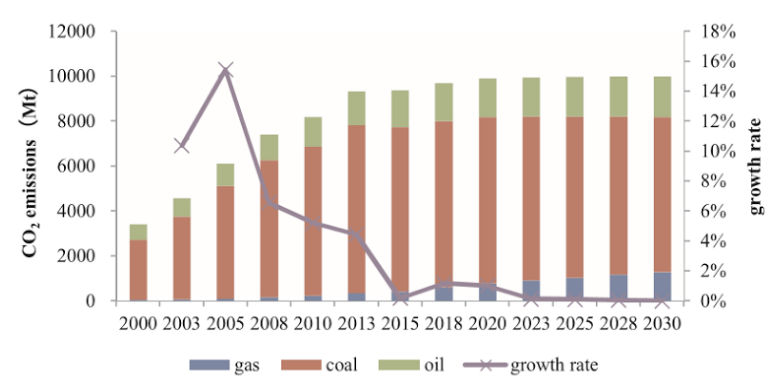 China's CO2 emissions by energy use under a high energy efficiency scenario, 2000–2030. Source: Authors' calculation based on NDRC (2017) and NDRC and NEA (2016)

"China can totally bring its energy efficiency up to the next level. The China Energy Revolution Strategy 2016-2030 will take China through an energy trajectory similar to the ones developed nations have gone through, but by adopting the ambitious energy efficiency scenario China has the chance of becoming a global model for energy efficiency," said Yuan, adding that a more ambitious China is crucial for talks at the UN climate talks held at Bonn.
Shifting growth patterns
The report asks if continuous energy intensity reductions are possible over decades, especially as many of the most readily obtainable "low hanging fruit" efficiencies in heavy industries such as coal, steel and chemicals have already been achieved. It concludes that restructuring towards high-tech and light manufacturing will play the "principal role" in lessening energy intensity after 2020.
Yuan told chinadialogue that other factors helping China achieve the higher target would include a broad shift away from economic reliance on exports and energy-intensive manufacturing to growth driven by consumption and services.
China also needs strict energy efficiency standards for new buildings, and to continue to eliminate excess steel capacity.
The study argues against over-investment in renewables, as controlling power consumption with energy efficient technology can have a greater impact on carbon intensity with less equipment, reducing the need for the grid to absorb large quantities of renewable energy.