The sudden announcement earlier this month of the Xiong'an New Area has caused a huge stir in China and plenty of news coverage but improving air quality in the area will be a major challenge to the scheme.
On April 1 the Party Central Committee and the State Council unexpectedly announced a new special economic zone 120 kilometres from Beijing, in the counties of Xiong, Rong and Anxin, which are all under the jurisdiction of Baoding city, in Hebei province.
Special zones develop and urbanise faster because they benefit from preferential economic policies and greater political independence from local governments. Other examples include Shenzhen and Pudong, founded in 1980 and 1992, respectively, both of which have developed along similar lines.
He Lifeng, chair of the National Development and Reform Commission, says the new zone has been established because Beijing can no longer keep pace with the pressures to provide jobs, accommodation and transportation for its 21 million people and needs to divert the pressures towards its surroundings. A major factor in the choice of location is Baiyangdian, the largest freshwater lake on the northern China plain.
But while Baoding has ample water, it has terrible air quality. For two of the past three years it has been the worst in the country, and came third in the other year. This is a major drawback for a plan that aims to boost economic development in an area already suffering from polluted air. It may also inhibit migration from Beijing residents who already suffer from air pollution.
The success of the plan will depend in part on the ability of the Chinese government to increase air quality in the Beijing-Tianjin-Hebei region and make Xiong'an a pleasant place to live.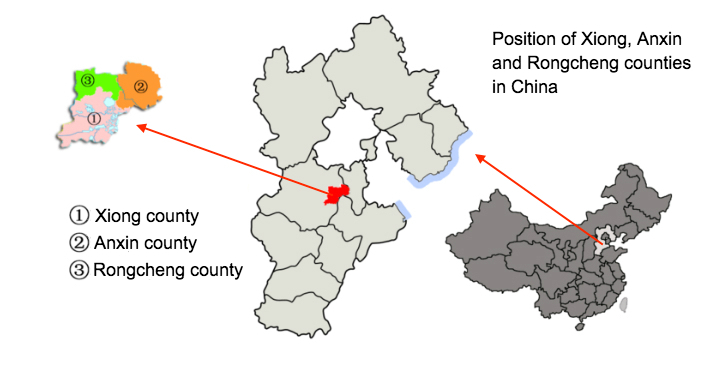 Image:Bxxiaolin
Global warming
The government is taking measures to improve air quality in Beijing and its surroundings. Beijing has just closed its last remaining coal-fired power plant and from this year several of Hebei's major steel-making towns will be ordered to cut production in half during winter. But research has found that climate change, as well as pollution, is having a huge impact on the frequency and duration of smog in Beijing.
A paper by Chinese and Australian scientists, published in Nature: Climate Change on March 21, found that Beijing may see a 50% increase in instances of heavy air pollution in the second half of this century compared to the period from 1950 to 1999. And worse, each instance could last 80% longer.
Although efforts are underway to reduce pollution, the research finds that further increases in greenhouse gases will increase temperatures and affect local climates. In Beijing and its surroundings this will result in higher temperatures and lighter winds in winter, which limit the dispersal of pollutants. Last winter was Beijing's warmest for 55 years; air quality in the region was worse than the previous year.
Chen Jining, China's Minister for Environmental Protection, was clear when speaking to the media about the problem in 2016.
"The meteorological conditions in winter have been worsening for years, outstripping the rate at which we're cutting pollution. This is the problem," he said.
So while the research appears to confirm what Beijing's residents have already observed, it also shows that dealing with air pollution in northern China is part of a global rather than regional or even national problem. The success or failure of environmental governance in Xiong'an and the entire northern China city cluster is linked to global progress to combat climate change.
Xiong'an: a new factor in climate governance
The future of climate change governance is becoming more uncertain. Of particular concern is the Trump administration's preliminary budget plan, which proposes to slash funding for the Environmental Protection Agency (EPA) by almost one third, remove half the funding for the EPA research office, and would also allow the Department of the Interior to approve polluting energy projects.
If that plan is passed there is no question that efforts by the world's largest economy, second largest emitter of greenhouse gases, and key player in international climate cooperation would be greatly undermined.
Meanwhile, China is also experiencing setbacks in its efforts to reduce coal-burning and excess industrial capacity. Tangshan, a major steel-making city in Hebei has seen production rebound, causing government concern.
It can be expected that the founding of the Xiong'an New Area will mean tougher air quality requirements for northern China. But alongside dealing with sources of air pollution itself, the Chinese government may also focus more on climate change and its indirect but important impact on air quality.
As Minister for Environmental Protection Chen Jining has said repeatedly this year, the rebound in levels of pollution despite a freeze on industrial expansion in the region has made the government aware of the huge impact of external factors on management of air quality.