On a hot July day in the Inner Mongolian county of Horinger, the birds sing in the trees of a planted pine forest. Not far off, Yang Shuantao, the village secretary of Baiyantu recalls that a decade ago this land was barren. "The sky turned orange with dust when the wind blew. We needed the lights on even in daytime."
Planting trees has diminished the sandstorms since then, and improved the environment generally, he explains.
Horinger is an example of China's afforestation drive. As the climate emergency worsens, the potential for planted trees to draw carbon out of the atmosphere is being re-examined. Could Chinese expertise be put to use internationally?
See also: Planting more trees can help offset carbon emissions 
China's afforestation efforts
In Mongolian, the word Horinger means "20 houses" and dates back to the Qing Dynasty (1636-1912). This was a flourishing city during the Northern Wei period (386-534) but over the next thousand years overexploitation of the land and changes in the climate saw the economy fail and people move away – until only the 20 households of its name remained, eking out an existence in the desert sands.
Winds from Siberia and the continental monsoon both sweep past Horinger, which lies upwind of Beijing. They used to whip dust all the way to Beijing, Tianjin and Hebei; spring dust storms ravaged northern China every year from the mid 20th century to the early 21st. Then in 2010, a project started in Horinger to plant Mongolian Scots pine, Manchurian red pine, Korshinsk pea shrub, apricot tree and seaberry. In total, 3.3 million trees now cover more than 2,500 hectares of degraded land. The results were felt locally. "We used to have more than ten days of sandstorms every year. Now it's just three or four," says Yang Shuantao.
The Horinger forest is expected to fix 220,000 tonnes of carbon from the atmosphere over a 30-year period. This makes afforestation a key tool in addressing global warming as negative emissions technologies that can remove CO2 from the atmosphere are required to limit warming to 1.5C above the pre-industrial level.
Tree-planting schemes designed to reduce sandstorms began in China in 1978. Official figures show that China's forested areas have since increased from 12% to 22% (115 million hectares to 208 million hectares). NASA data shows China and India are global leaders in greening over the past 20 years, accounting for one-third of total extra foliage between 2000 and 2017. However, these figures take "forest" to include areas of immature trees or that are temporarily treeless after being harvested. Gains of vegetation that most people would call "forest" are far less.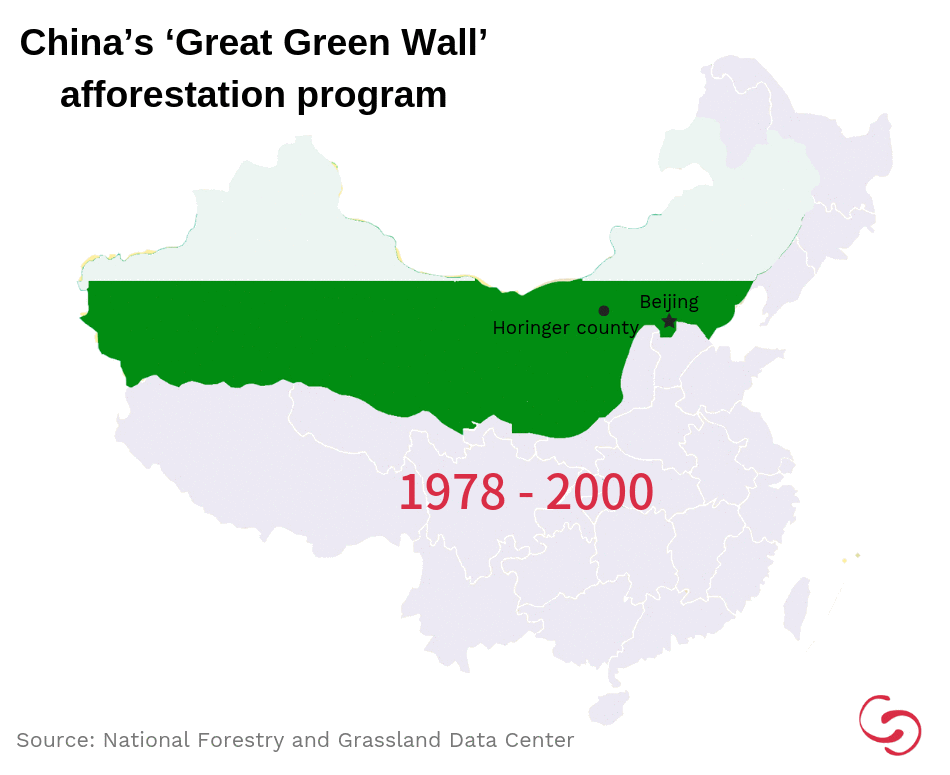 Speaking anonymously to China Dialogue, a forestry expert explained that in the last four decades China has developed systems for calculating and monitoring forestry carbon stores. The technology is now mature enough to measure and predict carbon storage within various forest ecosystems. This expertise means that: "Our ready-made approach could be applied elsewhere in the world," said the expert.
China is already promoting its expertise in countries signed up up to the Belt and Road Initiative (BRI). At the Second Belt and Road Forum in Beijing earlier this year, the prime minister of Pakistan, Imran Khan, called for Chinese participation in a drive to plant ten billion trees in the next five years. "There should be a joint project, an ambitious project, of planting trees so that we can mitigate the effects of climate on our coming generations."
Precedent suggests that such cooperation would mean sharing knowledge and funds. Khan said he hopes the new project will build on the success of the Billion Tree Tsunami project which he claimed has seen five billion trees planted in the last five years in Khyber Pakhtunkhwa province alone. His government estimated that scheme will enlarge the forested area of Pakistan by 1%.
The China Green Foundation aims to create three belts of poplar trees by 2030,  stretching from northwest China to central and west Asian nations including Pakistan, Kazakhstan, Iran and Turkey. Private companies such as Alibaba are also playing a part in tree-planting projects. Ant Forest rewards users on the Alipay platform by allowing them to grow a virtual tree on their mobile phones when they make low-carbon choices, such as cycling instead of driving. With enough points, the tree can actually take root in the desert; Alipay has promised to invest 200 million yuan (US$28 million) into desertification control along the BRI.
On the UN's invitation, China will lead talks on nature-based solutions (NBS) at the September climate change summit in New York, where it will organise the proposals from various parties. NBS can be used to conserve, sustainably manage and restore land and marine ecosystems, and promote sustainable agriculture and food systems.
According to Ella Wang of WWF China, the country is pushing for NBS to be featured in nationally determined contributions, adaptation plans and overall development strategies. It is also advocating for more funding to put NBS on the agenda at international talks.
China may put its afforestation model forward as one NBS approach.
Forty years of tree-planting
Afforestation is generally regarded as one of the most practical nature-based solutions, but some debate still surrounds it.
Zhu Chunquan, China representative for the International Union for Conservation of Nature, explains that an NBS approach would prefer natural renewal and restoration over the planting of artificial forests.
A new study of the Bonn Challenge – to restore 350 million hectares of forests by 2030 – found that natural forests in the tropics and subtropics hold 40 times more carbon than plantation forests. If that area, which is about the size of India, were to become natural forest then by 2100 it would have removed 42 billion tonnes of carbon dioxide from the atmosphere whereas commercial monocultures would only remove one billion.
Interestingly, more than half of the carbon sink effect of the world's forests is in areas where the trees are relatively young – under 140 years old – because young trees absorb more carbon as they grow. But this does not mean that plantation forests are the answer, as much of the wood harvested from them becomes paper, cardboard and wood chip that soon degrades and releases its trapped carbon back into the atmosphere.
Regenerating degraded forests may be a more sustainable option. While planted forests need careful management, natural forests are self-replenishing.
While afforestation projects have proven popular in China, they have also caused problems. Experts say that blindly applying China's afforestation experience abroad as an NBS measure may backfire.
For example, in some water-stressed areas, afforestation has put further pressure on water resources. In areas ill-suited to growing trees, money and resources have been wasted on annual planting efforts that have not produced a single surviving tree. Monocultural "shelterbelt" forests which, like the biodiverse one at Horinger, are meant to protect soil and provide shelter from the wind, can threaten local plant species pulled up to make room for them and are vulnerable to pests.
In some places, expanses of original forest have been felled to be replaced by denser, commercial tree plantations. This may boost forest-coverage statistics, but the ecological functions of the original forest are lost and desertification does not decrease. There have also been questions over faked coverage figures and low tree-survival rates in China's Three-North Shelterbelt Program, which has been lauded as a "Green Great Wall".
But Huang Wenbin, forest projects head for WWF China, says that "we can't ignore the historical context" surrounding those afforestation efforts. He says there was limited understanding of how to manage forest ecosystems in the 1970s, and resources, technology and policy tools were lacking. Based on the scientific knowledge of the time, dense and tall monocultural forests seemed the best choice to stop sandstorms, he added.
"Afforestation is itself one form of ecological restoration, but the key issues are what kind of forest, where, how dense, and so on," says another forestry expert who wishes to remain anonymous. He explains that they carried out a lot of research prior to the Horinger project to identify important ecological zones and restoration targets, deciding which locations were suitable for planting trees, shrubs or grass.
According to Huang Wenbin, a mixed ecosystem of trees, shrubs and grass provides better ecological functions. However, transforming a forest where all the trees are the same age is a challenging process requiring selective felling, replacement, planting and natural renewal. Huang points out that China's forest assessments have focused on coverage, overlooking other important measures such as species diversity.
Zheng Yan, of the Chinese Academy for Social Sciences, has systematically reviewed recent studies of government-led ecological restoration projects. She is yet to publish her findings, but found that less than a third mentioned protection of biodiversity or species conservation.
International applications?
Experts say that when applying its expertise internationally, China should learn from its mistakes.
Ren Wenwei of WWF China says that local tree species suitable for the climate should be chosen, with the biomass of the tree and the larger ecosystem also considered.
Afforestation is no easy fix. Planted forests need long-term investment and management. Moreover, saplings don't immediately absorb huge quantities of carbon dioxide. You only see results 20 or 30 years later, when they become small but quick-growing trees.
Questions have been raised about China's greening experiments in BRI nations. In Peshawar, Pakistan, locals have questioned the felling of ancient trees to make way for the Chinese-led construction of a bus rapid transit system, only for the local government to later announce big investments in tree-planting.
When asked about China's plans to create a green Belt and Road, Russian environmentalist Eugene Simonov expressed concern: arid ecosystems such as deserts and grasslands cannot support trees, and sustainable use of water resources should be prioritised there.
Back in Baiyantu village, Inner Mongolia, 65-year-old Li Laqing doesn't care how much carbon the nearby forest will sequester. He's not interested in discussions about afforestation and climate change either. But he does have an opinion on the forest: "The environment's much better now. Birds we had stopped seeing are coming back, and occasionally we see foxes and badgers."
The villagers take good care of their forest. On Tomb-Sweeping Day this year, while some were burning offerings to their ancestors on the hillside, a team of villagers set out to ensure no forest fires started. "There's no doubt that the forest has improved the environment, and I hope those trees grow big and strong," says Li.