The world's mightiest river, the Amazon, originates in Peru and now the country has a plan to transform it, along with the major tributaries within its borders, into a hub for modern transport.
The Amazon Waterway project plans to dredge the four most important rivers in Peru's rainforest region to make navigation easier.
However, the US$95 million government-backed project, known in Spanish as the Hidrovía Amazónica, depends on the approval of an environmental impact assessment. Only then can it begin opening up 2,687 km of the Marañon, Ucayali, Huallaga and Amazon rivers.
The Cohidro consortium, a 50/50 partnership between Chinese engineering firm Sinohydro and Peruvian construction firm Casa S.A, was contracted to engineer the project in 2017.
If it gets the green light in a decision expected at the end of this year, a 20-year concession would likely begin in 2022 when the waterway would become operational.
Infrastructure and information gaps
The Amazon Waterway has been declared of national interest. Peru's transport and communications ministry earmarked it as one of 52 key infrastructure projects to plug what the finance ministry estimates is a $108 billion infrastructure shortfall, equivalent to around half the country's GDP.
However, the route to its final approval may not be plain sailing.
The plan, which purports to make the Amazon region more navigable, has raised environmental concerns and unanswered questions about its objectives.
First proposed in 2014 as part of the Initiative for the Integration of the Regional Infrastructure of South America (IIRSA), the waterway attracted its first consortium of Chinese and Peruvian investors, El Consorcio Hidrovias II, in 2017.
Since then, the initial proposal to dredge 13 "difficult spots" on key passages of each of the four rivers, has raised a series of questions. Engineers claim these are not fully addressed in the Amazon Waterway's "far too general" environmental impact assessment.
"If you are going to dredge, which is removing sediments, you should at least study how much sediment is moving along the bottom of the river," says Jorge Abad, an engineer who specialises in ecohydraulics.
"No one has done this."
Abad says dredging the riverbed requires modelling to determine its effectiveness and possible side effects.
"If we are signing for 20 years we should see more quantitative predictions of what's going to happen – and that's not coming from the company," he says.
"The river is an integrated, living structure and whatever happens upstream will impact downstream and vice versa. They don't seem to understand this," says Abad, who has been studying the Amazon river system for a decade.
China's role
The involvement of a Chinese firm in the project is significant, according to Rosario Santa Gadea, director of the Centre for China and Asia Pacific Studies at Lima's Pacific University.
"China is interested in investing in infrastructure abroad and opportunities in Peru are big," she says, adding that the waterway project "could be beneficial for increasing connectivity between China and Peru in terms of international trade".
In April, Peru formally endorsed China's major overseas connectivity project the Belt and Road Initiative.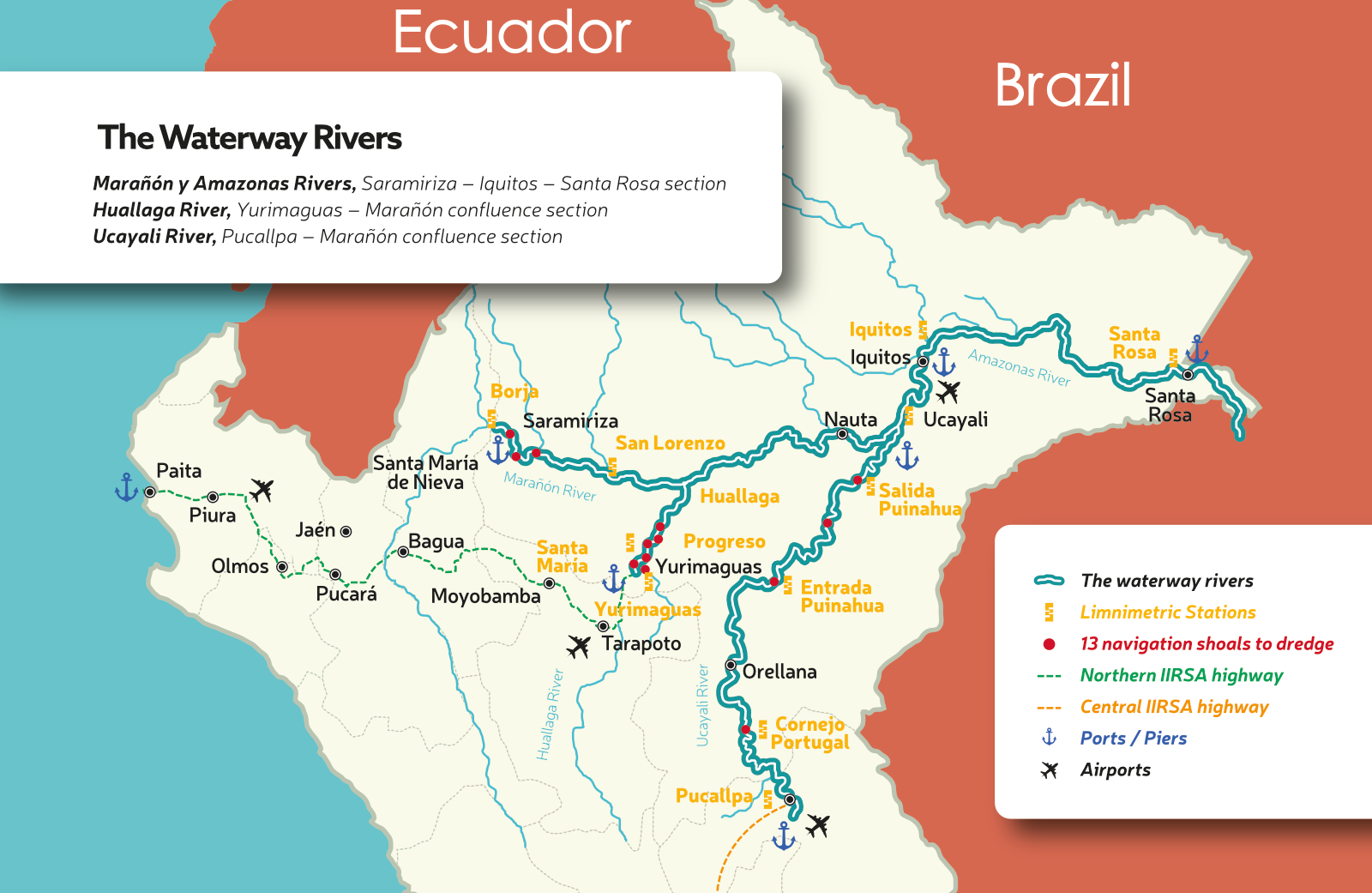 Map courtesy of DAR Peru
The initial idea was to connect Peru's northern seaport of Paita to the Amazon region, Santa Gadea explained. Iquitos, the regional capital of Loreto, is the world's largest city that cannot be reached by road. The Amazon state of Loreto is larger than neighbouring country Ecuador.
"There is the need to produce connectivity with Brazil in the Amazon part of our country," she added.
Chinese observers have said the environmental cost might be too high. Zhang Jingjing, of the Transnational Environmental Accountability Project, said the "indigenous people have deep concerns about any project which would affect their way of life."
"China should comply with international norms to make sure its international investment is green and clean," she added.
Sinohydro is a Chinese state-owned firm and the world's largest hydropower construction company. It has a chequered record on environmental standards and human rights.
The firm has been involved in controversial hydropower projects around the world including the Kamchay-Cambodia dam, the Kajbar-Sudan dam and the Coca Coda Sinclair dam in Ecuador, which was part of a national scandal over its poor construction and alleged corruption.
Impact assessment delays
The environmental impact assessment (EIA) for the Amazon Waterway project has been drafted and re-drafted since the beginning of 2018 after initial rejections by Peru's environmental certification service SENACE for not including citizen participation workshops or consulting indigenous organisations.
In May, SENACE accepted the EIA for evaluation, incorporating two indigenous federations (ORAU and CORPI) as interested third parties.
At the same time, AIDESEP, the umbrella federation for native Amazonians, filed a compliance appeal with Lima's superior court to force Peru's transport and communications ministry to implement the project's prior consultation agreements, which it says were not carried out properly.
Indigenous communities worry that dredging will impact fish populations, along with other plans to remove tree trunks stuck in the river, known as quirumas, which are havens for fish reproduction. Dredging could also disrupt fish migration, impacting food security for the whole rainforest region, according to a report by the Wildlife Conservation Society in Peru.
However, Peru's Transport and Communications ministry said in a series of public meetings in the region last month that it would implement a plan so that fish migration would not be affected.
Prior to that, Loreto's main indigenous federation ORPIO, along with CORPI, ORAU and AIDESEP made a public announcement in May demanding that the project be declared non-viable.
"We'll be affected because the [dredging] will mean the river banks get washed away and our [riverside] communities will start disappearing," said Zoila Merino, an indigenous Bora leader with ORPIO.
"The fish will flee and there won't be food for the children. We've been the owners of the forest for a long time. It's our market. For us, the water is health, life and food. It's everything. This connection won't benefit us," Merino added.
Last month, Peru's national parks service SERNANP said the project's EIA would impact two endangered mammal species, the Amazon river dolphin and the giant river otter.
Flagging up 31 observations on the impact study, SERNANP highlighted particular concerns about three dredging points near the buffer zone of the Pacaya Samiria national reserve, Peru's largest, and another in the Cordillera Azul national park's buffer zone.
"It would be ecologically and economically disastrous," said Richard Bodmer, president of NGO FundAmazonia.
"One third of Loreto is flooded forest which is a fish reproduction site and that's all going to be impacted by that kind of intensive dredging," Bodmer said, adding that dredging underwater mounds would cause the water to flow faster, meaning more droughts.
Taking a toll
A proposed new levy on transport is also unpopular. The local river shipping union rejects a fee that Cohidro would introduce for passage on the rivers. If the project goes ahead, any medium-to-large vessel would pay the concessionaire $1.69, plus VAT of 18%, per unit of gross tonnage.
"It's nothing more than a toll booth, which will make shipping 30% more expensive as well as the average family basket for food," said Carmen Nuñez, general manager of Loreto's river shipping freight association, speaking from Lima ahead of planned protests.
"I want the world to know that they have 'concessioned off' our Amazon, because the Amazon doesn't just belong to this government and to Peru, it belongs to the world. That's why we must conserve it, not send in dredgers."
Peru's transport and communications ministry did not respond to requests for comment.
This article was first published by Dialogo Chino