Hundreds of Bolivian farmers have expressed their pleasure at China opening its market to the country's organic quinoa, 40 tonnes of which was exported in December.
"In June 2018, when it was announced, the price of quinoa went up. Obviously, this is an incentive for small producers," says Edgar Soliz, director of the International Quinoa Center (CIQ), a state entity created in 2013 to promote its sale.
Four months later, exports of royal organic quinoa sent to China grew by 14 times to over 590 tonnes. The goal is to reach 2,000 tonnes by June.
Growing Chinese demand means producers expect price rises and hope to attain reasonable profit margins, especially for royal organic quinoa, a variety that occurs only in the Andean highlands around the salt flats of Uyuni and Coipasa.
Many producers see the "golden grain" as a way to earn living in a challenging rural economy while others worry about price fluctuations and climate change affecting the production of an ancient staple.
From seed of the Incas to international gourmet cuisine
Although it is associated with cereals, quinoa is the seed of a plant from the family that includes chard, spinach and beetroot. It has a productive cycle of one year.
Quinoa was widely cultivated in the Andean region by pre-Columbian cultures and was a staple of Inca communities – both in the highlands and valleys. During the period of colonisation, it was replaced by corn, barley, wheat, oats and potatoes.
"It was a little-known product and rejected by society, which thought it was food for animals and Indians," said Víctor Poma of perceptions of the product 40 years ago. Poma is vice president of the National Association of Quinoa Producers (Anapqui).
Anapqui comprises 15 regional organisations in the southwestern highland departments of Oruro and Potosí that represent some 30,000 families.

Black royal quinoa from Oruro (Image: CIQ)
"At that time, the price was not reasonable [for producers]. The exchange of two quintals (92 kilogrammes) of quinoa was made for a quintal of rice," Poma added.
In Bolivia, quinoa is still a dietary mainstay of many urban families. It is used in soups, rolls, tortillas and even in carbonated drinks. Apple juice with quinoa juice is one of the most popular street breakfasts in the capital La Paz.
Since 2013, the state has distributed quinoa energy meals and bars as part of its prenatal and family subsidies to 40,000 women. In total, the country consumes 30% of the quinoa it produces.
Prices have surged since NASA rediscovered quinoa's nutritional benefits in 2008, which was underscored by the UN's Food and Agriculture Organisation (FAO) and generated a boom in consumption worldwide.
The UN declared 2013 the International Year of Quinoa, following an FAO report that said it was a strategic crop for food security because of its nutritional quality, genetic variability, adaptability and low production costs.
The declaration caused production to extend to more than 70 countries, including the US, Kenya, Australia, India, Japan and now China.
Distributors such as Simsa and Andean Valley were the first two to arrive in Shanghai with processed quinoa and they expect demand to continue growing. Unlike producers, they hope that the price does not rise too much because that makes them less competitive against Peruvian counterparts.
In recent years, Peru has replaced Bolivia as the world's top producer, in part because most Bolivian farmers did not modernise production and have been hit by drought, heavy rain and frost. Last year Peru produced 65,000 tonnes, almost half of which were exported. But it does not export the highly prized Royal organic quinoa, as Bolivia does.
Prices for the Bolivian variety are now well below the 2013 boom, when a quintal of the grain cost up to 2,050 bolivianos (US$294).
But the boom had a bad side. The cultivated area grew rapidly, taking over land destined for diversified agriculture and grazing. Overproduction eroded the soil and hurt the fertility of the land.
"Quinoa is a depleting crop [it absorbs nutrients from the soil]. It is recommendable to fertilise with manure or, better still, to rotate the crop," said Soliz.
He added: "Many people have reflected, and realise that we will have problems for future generations. If they do not take care, they'll struggle because they live on that product."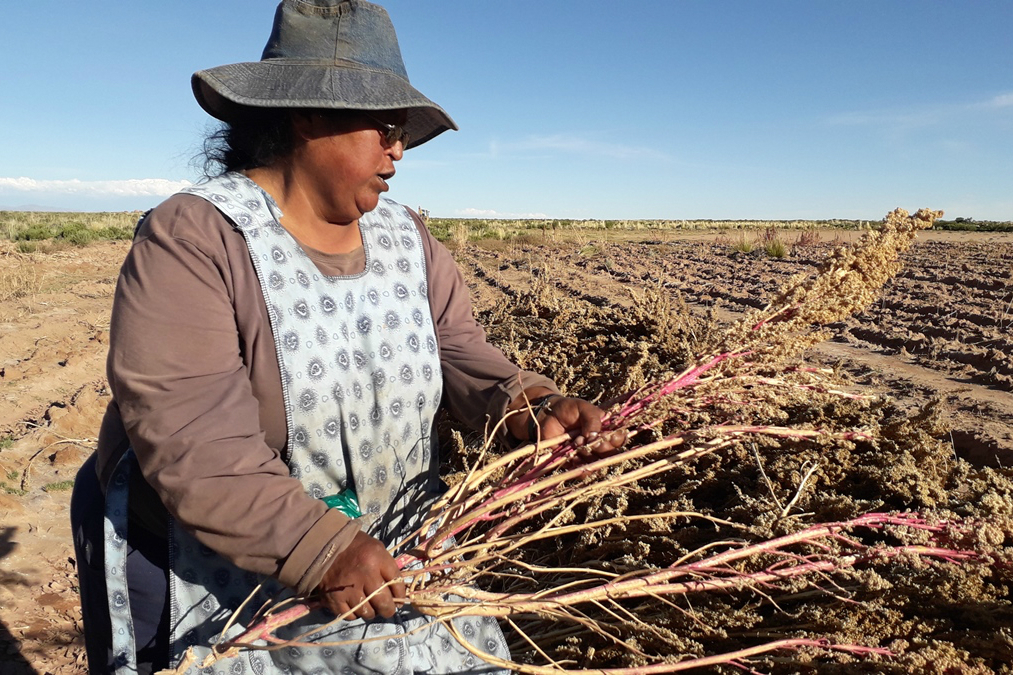 Alina Alcón is new to quinoa growing. Due to humidity her last crop was no good (Image: Miriam Jemio)
Challenges for the golden grain
Alina Alcón de Lucana has been waiting for her husband's tractor to open furrows. "We are clearing the land," she said as she walked on the newly ploughed earth. At 3,700 metres above sea level, the sun's rays are intense. She wears a wide-brimmed hat for shade.
They are preparing the land for planting a one-hectare field in September. There are piles of quinoa.
"The humidity has made us lose this entire harvest," said Alcón, pointing to the stacks of the crop that appear smaller than normal. She said it rained when it wasn't supposed to and that weather has become unpredictable.
One of her neighbours replanted with the hope of obtaining a better harvest in May. The plants are still growing on their farm in the ayllu indigenous community of Cerro Ullami. With the harvest over, they are in the process of drying the panicles. Later, they will thresh them to separate the seeds before storing.
Alcón is one of the new quinoa producers of Toledo, a municipality of 11,000 inhabitants in the department of Oruro. The region is also the country's largest producer of sheep.
"I am a livestock farmer, but as the price has gone up and there is demand [for quinoa], we wanted to sell," explains Alcón, adding that she will plant again in September. Though she doesn't mention China, that's the market driving increased sales.
Producers in Potosí – another traditional region of quinoa farmers – said they did well with this year's harvest: "We are seeing that we can ramp up our production so that in some way the price of quinoa goes up. A week ago it was 580 bolivianos (US$83). Now it's down and it's a big concern," said Celso Salas, former director and member of the Chamber of Producers of Quinoa in Potosí.
"We've been waiting for the Chinese market to open. We've been fighting and now they gave us the green light so that we can export. We're very excited about that," he added.
Landlocked Bolivian farmers want to export directly from their farms to Chinese consumers. However, for now they do so through companies such as Jacha Inti and Sindan Organic, headquartered in La Paz, who ship the grain from the Peruvian port of Ilo.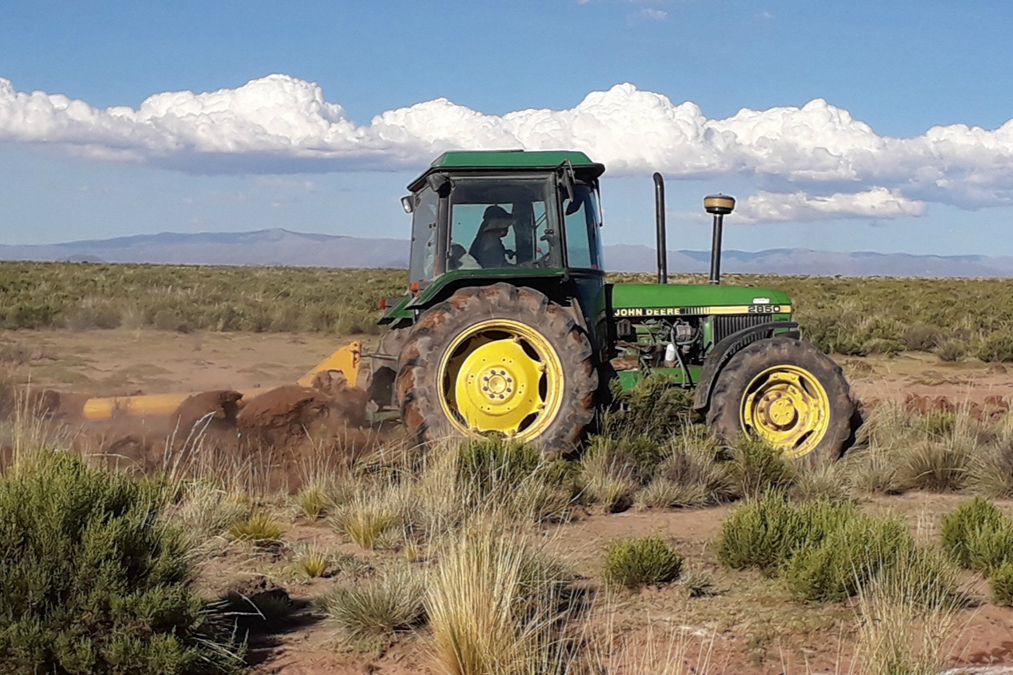 Organic royal quinoa is only produced around the Uyuni and Coipasa salt flats (Image: Miriam Jemio)
For producers, a reasonable price ranges from 800 to 1000 bolivianos (US$114 to $143) per quintal (46 kilogrammes). "That would cover all the investment, from the beginning of planting to harvest. To lower it any more would be to make a loss, more so now that pests have been getting worse and the weather too," said Salas. "Organic production demands more investment."
In Challapata, a town in Oruro department where quinoa prices are fixed every Saturday, other producers keen to export to China negotiated finance from the Ministry of Rural Development and Land to buy tractors.
"We had to be the drivers for the export of quinoa, but there are others that should be associated with that. They have abandoned us, now that we have a debt to pay in 10 years," said Magda Arcani, an indigenous Aymara indigenous leader. She explained that tractors cost between US$49,000 and $62,000.
"We're in debt because there have been three years of drought. This year, I've planted 30 hectares and of all that I will barely get a quintal of quinoa," Arcani added.
Bigger companies agree that producers need policies to support in order to help them modernise. "There is not a single machine developed for our quinoa producers and there is no Bolivian institution that is leading technological development," said Jorge Fernández, president of Andean Valley, a company that has been producing and exporting for 21 years.
Despite their problems, the price of a quintal of quinoa doubled – from 300 bolivianos (US$43) to between 600 to 700 bolivianos ($86-100). They have since dropped.
Salas said he gets around 25 quintals per hectare: "This is because the land needs fertilizer. One year we sow and the other it rests. If it does not rest, I only get 15 quintals – maybe 12 – per hectare. But this year the rain has helped it grow more. We see the issue as one of quality, not quantity."
Demand for quinoa has given a new impetus to rural development and has helped to reduce migration from the countryside to Bolivian cities, producers said.
Selling to China
Bolivian quinoa is sold in China, mainly Shanghai, in the form of noodles, flakes or grains. It can also be a substitute for rice, an additive for salads, or used as flour for pastas, breads or cakes. At least 10 companies exported between December 2018 and March this year.
"The Chinese market, like everyone else in the world, is increasingly looking for nutritious, organic and foods free of allergens, such as gluten," said Fernández. "It is demanding quinoa."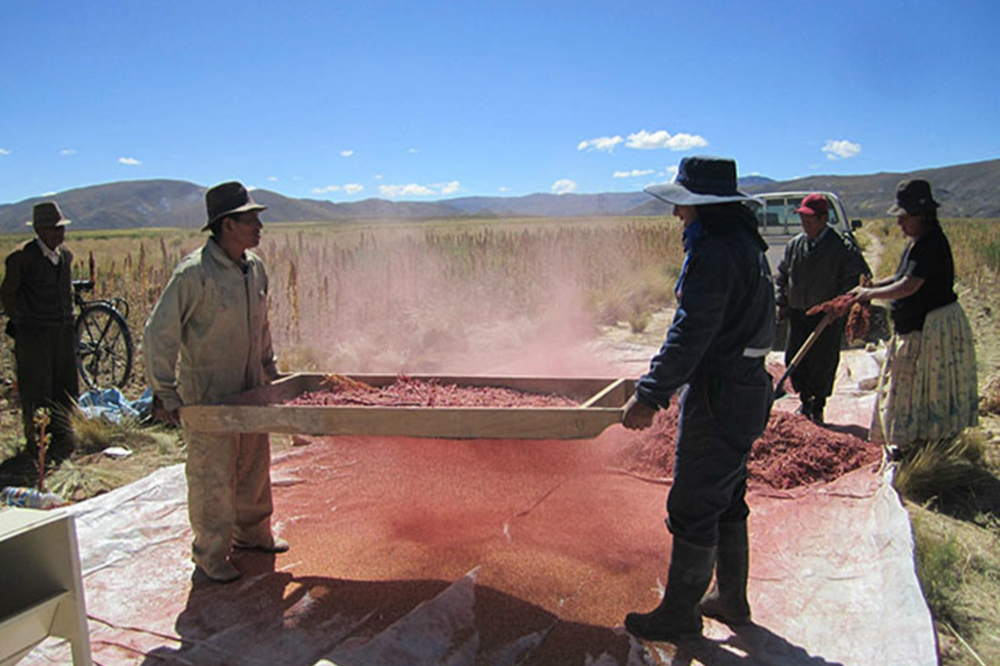 Producers want higher prices, while exporters fear that could make them less competitive (Image: CIQ)
Fernández said his company is promoting the export of quinoa with added value in products such as vegetarian hamburgers, custards and puddings.
Ariel Vargas, export manager of Simsa, which has been selling to the US and Europe for 15 years and plans to ship 400 tonnes per month to China, said: "Because of the population that China has, it is a market with a very interesting growth potential for us. We want to know the clients well."
But while volumes go up, producers cannot guarantee price increases.
"With the opening of the Chinese market, we generated a false expectation. We have to understand that we cannot raise the price arbitrarily. As prices started to rise at the end of 2018, Chinese customers decided to stop their orders," said Vargas.
Simsa's suppliers are between 800 and 1,000 families grouped in associations that they agree to pay a higher price.
Andean Valley works with 480 families in 22 communities in the area between the salt flats of Oruro and Potosí. They provide technical advice and certification.
Producers and exporters agree that Royal organic quinoa represents the best strategy for sales outside the country.
However, the first step is achieving a denomination of origin, certification that legally protects certain foods from certain geographical areas. This depends on the fact that the variety has 11 of the most important amino acids for human consumption, is low in fat and has no cholesterol.
Fernández said: "Unfortunately, not many people know that. We Bolivians have not been able to promote the qualities of Royal organic quinoa."
This article is republished from Diálogo Chino