Black pigs stroll beneath the trees on the three green hectares of Love Village Farm, outside the city of Chengde in Hebei province. Ren Yingying, 28, snaps a few shots on her phone and posts them on WeChat, so her social media followers can see how the pigs are doing.
The farm has a stall at an organic farmers' market that takes place twice a week in Beijing. It also sells its products via a WeChat store. As well as tending to the farm, Ren and her husband post on WeChat every day, respond to orders and queries, and arrange deliveries.
Organic farming in China is benefitting from the online shopping boom. Love Village is one of many small-scale farms trying to make use of the direct-to-consumer model facilitated by the internet. Can it provide stable sales and a loyal consumer base? And how will investment from big companies change things? These questions are on the mind of farmers like Ren Yingying.
The organic movement officially began in China in 2005, with the publications of the first standard for certifying products as "organic". A study by the Research Institute of Organic Agriculture, a Swiss organisation, found that by the end of 2016 China had the third largest amount of organic farmland in the world, behind only Australia and Argentina, while the market for organic produce was growing in the country by 25% a year.
The Chinese government has been encouraging a shift from increasing yields to improving quality, in response to problems such as soil pollution, biodiversity loss and antibiotic resistance. Organic farming is well-placed to be part of the solution because of its strict limitations on fertilisers, pesticides and growth regulators.
The big e-commerce websites are reacting to the opportunity. In 2005, Jack Ma's company Taobao overtook its competitors to become China's largest shopping website, with food being one of the key attractions. E-commerce accounted for 800 billion yuan (US$119 billion) of spending on food and other farm produce in 2017, including 139.13 billion yuan on fresh produce. These figures have seen sustained annual growth of 50%. There are now more than 50,000 traders selling farmed produce on Taobao, with 6,460 of them specialising in organic goods.
Meanwhile, China's delivery industry was the world's largest by the end of 2016, as the network expanded to reach the majority of China's villages. For people with the money, buying organic produce has become as easy as clicking a mouse.
Winning back confidence
Though people opt for organic because they are concerned about food safety, genuine organic sellers find themselves competing with a host of charlatans.
In a China Youth Daily survey in 2018, 70% of respondents believed "organic food" could easily be faked. Nor were these fears unfounded. Media reports found that in some places organic certification could simply be bought. In September 2015, Tianjin Consumers' Association found that 70% of organic food samples were contaminated with agricultural chemicals. Posting certificates of organic status and quality assessment results online is not enough to win the trust of consumers.
"Solving the confidence problem is key to getting more people to eat organic. If I'm buying a tomato four or five times more expensive than usual, I want to be buying something genuinely healthy," Chen Xiaoman told chinadialogue, as she shopped in 7Fresh, a high-tech supermarket subsidiary of JD.com, in Yizhuang, Beijing.
To address these concerns, 7Fresh displays organic certificates in store, and customers can scan a barcode to view information such as how the product was planted and harvested.
Meanwhile, small-scale farmers are harnessing both the personal connection of farmers' markets and the broad reach of the internet: "Offline markets are very important to us, as the bulk of our customers find us there and then become online customers," Ren Yingying explained. "But we also find new customers online."
The online and offline approaches are now inseparable: customers from the farmers' market follow farms online to see what new products are available, while online customers bring friends to the market to see what's for sale.
Liu Wanlan, founder of the business review site pintu360.com, believes that for organic farmers the chance to solve the confidence issue is the biggest advantage of the direct-to-consumer model.
From organic farm to foody
People are welcome to visit Love Village Farm to see how Ren Yingying and her husband ensure their products are organic. She uses the WeChat account to show how seedlings are grown, transplanted to the fields, kept free of pests and harvested. The feed is full of photos, videos and vivid descriptions, which help customers feel closer to the farm.
As Ren tells her followers: "The piggies run about in the trees, breathing fresh air, eating grass from the field or pesticide- and fertiliser-free food, and drinking sweet spring water."
There are plenty of promotions as well. One pinned message reads: "Meat from the first pig of the new year to be slaughtered, half-price!"
Group messaging on WeChat is another popular tool organic farmers use to sell products and connect with customers. In a chat run by Little Willow Farm, another organic operation in the Shunyi district of Beijing, an employee makes a list of 50 products, including vegetables, nuts, duck eggs and jams. These will be on sale at a farmers' market in Beijing the following Tuesday.
"Here is the list of available products, reserve ASAP if you want anything."
Five minutes later, Liu Gang, owner of Little Willow, has received over a dozen orders. He uses the group to regularly post photos of the farm and its products.
Meanwhile, at the market, customers old and new can see the products and ask Liu Gang about the production process.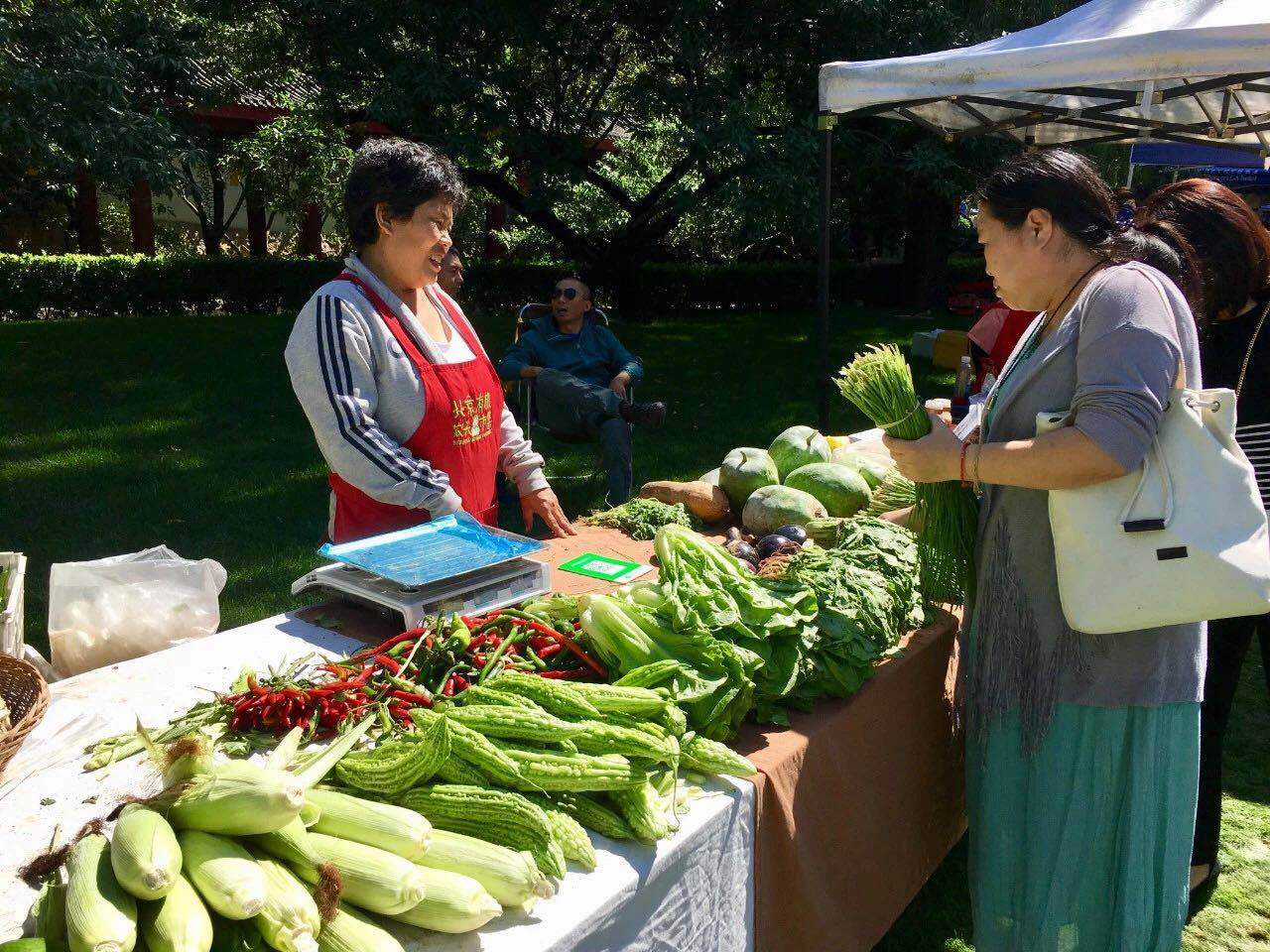 Green veg on show at the Beijing Organic Farmers' Market outside the five-star Shangri-la Hotel
Liu Gang drives out to Beijing's third ring road. He'll deliver some of the orders himself, and hand others over to a courier company. He says he started the farm to realise his dream of helping others eat healthier food. "There's no point in thinking it'll make you rich," he says. Once wages, rent, transportation and utilities are paid for, there's not much left as profit. But he hopes to expand in the future: "If we ran several farms, we could rely more on couriers to make deliveries."
Some farmers have even become online celebrities thanks to direct broadcast apps such as TikTok and Kuaishou. Some have acquired tens of thousands of fans by video streaming crop plantings and fruit harvests.
Commercial expansion
E-commerce sites are changing their retail model in ways that compete with organic farmers.
In 2016, Alibaba launched the sale of fresh produce. The following year, Tencent invested in its own chain of grocery stores. Within the next five years, JD.com is set to open 1,000 7Fresh supermarkets across China.
These internet giants are simultaneously developing online apps and opening physical stores. The fresh produce they can provide may be good enough for some consumers, and they of course have more outlets and marketing resources than the small-scale farmers.
"I've enquired about selling on the big e-commerce platforms, but it's too expensive to be worthwhile," Liu Gang says. "We don't produce that much, and I'm worried that if we worked with those platforms we'd lose too much of our produce to wastage in the logistics chain."
Chang Tianle, founder of the Beijing Organic Farmers' Market, agrees that small-scale organic farmers often lose out on the big platforms. Soon after the small players began signing up, the platforms added mass-produced products from large farms to their ranges. At that point they stopped cooperating with the small farmers. Customers who begin to rely on the e-commerce sites also become less likely to use the farmers' direct sales channels.
"Some farmers think a new platform means new sales, but they soon find they're being taken advantage of," Chang Tianle explained.
The big investors are not content with creating sales platforms. They are eager to get into the farming business itself. In 2010, Lenovo invested billions of yuan in the organic farming market. JD.com recently announced it will build a hydroponic farm, producing vegetables that are cheaper than organic varieties and do not need to be washed.
When asked how she feels about these investor-led organic farms, Jian Yi, founder of the Good Food Academy, says he prefers the small-scale farmers.
"Agriculture isn't just an industry, it's a very important part of the social system. Products from a small-scale farm support a family and keep us in touch with the land," she says. "It's not just about being organic, it's about knowing where our food came from, seeing the impacts of our consumption, including on sustainable farming lifestyles."
But with highly competitive investors at work, small-scale farmers may find sustainable businesses even harder to nurture than sustainable crops.