When Foreign Policy magazine published a photo essay on Chenggong in 2013, it titled the piece The Empty City. The recently built town, created from scratch to house the provincial government building and a number of universities, was a ghost town.
The pictures showed rows of neat, residential homes and wide, straight roads. Yet what should have been a bustling urban centre was deserted, likened more to a film set than a place where people would want to live.
The city, which is near Kunming in China's south-west, soon joined the ranks of other newly-built but empty cities, including Lanzhou's New Area and Ordos in Inner Mongolia.
But five years on and Chenggong is showing signs of life, following efforts to redesign the layout of its centre. It's still early days but figures from the Chenggong Industrial and Commercial Bureau show that 25,000 businesses have registered there in the past year. Is this ghost city coming to life?
Designing for sprawl
Urban planning in China has largely followed a Soviet model of sparse road networks and super-blocks to house large work-unit compounds. But growth in the economy and urban populations after reform and opening up highlighted the failings of this model – urban sprawl, land shortages, and over-reliance on cars – which made cities polluted and unsafe.
One factor in particular contributed to urban sprawl, according to Hal Harvey, CEO of US thinktank Energy Innovation, was the reform of income tax in 1994, which reduced local government incomes. To replace shortfalls, they began leasing more land and so cities grew.
"In the end, a financial problem became a land problem," said Harvey.
In 2007 the Chinese Academy of Sciences published research showing that disorderly outward expansion of cities was resulting in longer journeys and leading residents to abandon struggling public transport systems for cars. It suggested abandoning the old approach to urban planning, but this advice was mostly ignored.
A new path
An important catalyst for change in Chenggong has been the redesign of its road system to create more liveable neighbourhoods. Wide, imposing boulevards have been replaced by a dense network of smaller streets to attract a broader range of businesses and make the city easier to walk around.
Chenggong's road network is now denser than China's national average, with 11.83 kilometres of road per square kilometre, according to the 2018 report on road network density in major Chinese cities, published by the Ministry of Housing and Urban-Rural Development and the China Academy of Urban Planning and Design.
The density of its centre is similar to other developed international cities such as New York, Chicago and Barcelona.
Chenggong new district is one of China's first large-scale experiments with the smaller neighbourhood approach. It also shows how urban design in China is being rethought to encourage more walking and cycling and less vehicle use.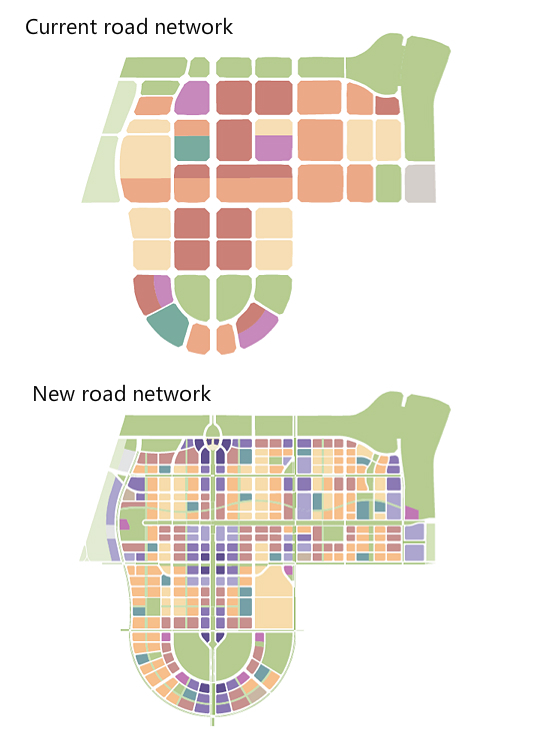 A before and after comparison of Chenggong. Smaller blocks encourage greater diversity in land usage (Image: Supplied by Calthorpe Associates < China Design Manual >
Chenggong's story
In 2003 Chenggong was a county town on the eastern side of Kunming's Dianchi Lake, known for its fresh vegetables and flowers – but the town was set for major development.
Kunming had moved its city government to Chenggong and planned to make it a provincial transportation hub and a centre for innovation in science and education.
But the new Chenggong just didn't bring people in. Although the city government and a number of hospitals and universities moved there, workers still lived in Kunming proper and travelled back and forth. People complained that a severe lack of infrastructure and services made living in Chenggong inconvenient. So they waited to see what would happen.
In 2010 Kunming was chosen as a location for a low-carbon city development trial, which would be managed by the Energy Foundation and the Ministry of Housing and Urban-Rural Development.
The centre of Chenggong, approximately 8.6 square kilometres in size, was chosen as a low-carbon demonstration zone, with design principles calling for small neighbourhoods and denser road networks.
Those principles originated in the New Urbanism movement of the United States. The size of neighbourhoods as well as the density and width of roads are designed with the pedestrian in mind, and with the bicycle and bus as the main modes of transport.
According to Zheng Ruishan, senior project officer with the China Sustainable Transport Centre, a non-governmental organisation that contributed to the planning process, blocks of 400-500 metres in size were reduced to 100-200 metres as new roads were put in. This made places easier to get to and increased the number of pavements for pedestrians. Street-front shops became more common.
He added that the local planning authorities and developers have taken to the new model – and even rejected a development proposal from one of China's biggest developers, the Wanda Group, as it would have been unsuitable.
The transformation has made a difference according to Zhou, a local resident who moved to Chenggong from Beijing two years ago.
"Some say Chenggong is an empty town but that was in the past. The town is really good now and it feels like a modernised Western town. First of all, there is never congestion and the public transport system is convenient. It also has fresh air and great infrastructure. You live next to university campuses, government buildings and sports and recreational facilities, so it feels like a very 'gentrified' community," he said.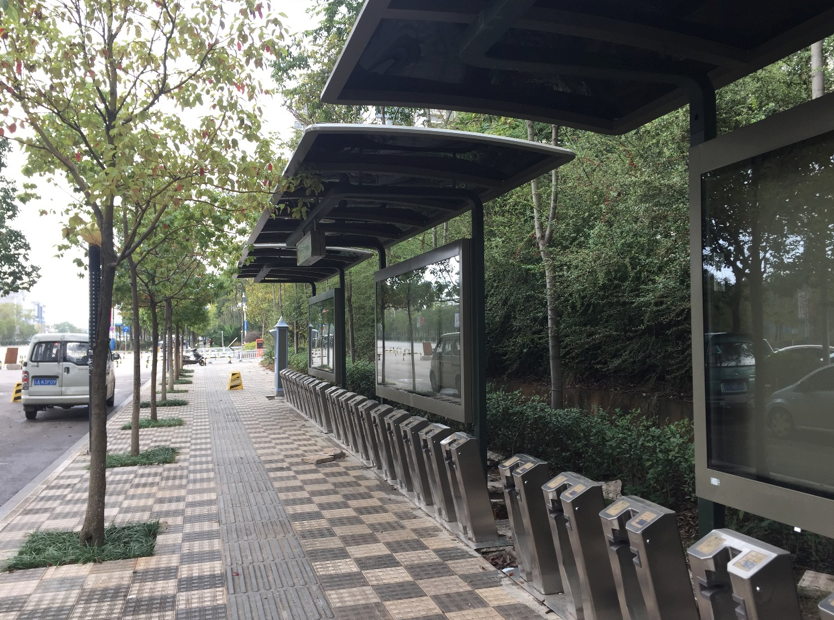 Bike racks on Chenggong's streets. Kunming's public bike scheme went into operation in March 2017. It's operated by a private company with government subsidies (Image: Zheng Ruishan)
Change is hard
But shifting from the old Soviet-style planning model has been challenging.
Zheng Ruishan explained that the Chenggong project was hampered by land use rights for small blocks being divided across multiple developers.
Another problem is the planning regulations that require land to be used for either commercial or residential use. This means that for a building in Chenggong to house both businesses and apartments, it must be registered as commercial land use, which means shorter leases and restrictions on the use of natural gas and higher electricity and water prices, all of which put off people from living there.
It is much harder to remodel an existing city district than it is to build a new one.
Chenggong was modelled on the old super-block system. The city's main artery – Caiyun Road – was originally an 80-metre wide 10-lane carriageway.
The new proposals in 2011 would have seen the road reduced to two carriageways, one in either direction, with a 40-metre wide public park in the centre. Each carriageway would have three lanes to ensure there was space for motor vehicles, public transport, non-motorised transport, and pedestrians.
But the road had only been in place for a few years. Given its cost, and the fact that it is the main link between Chenggong and Kunming, Kunming's government decided to set plans for major changes aside and make only limited adjustments.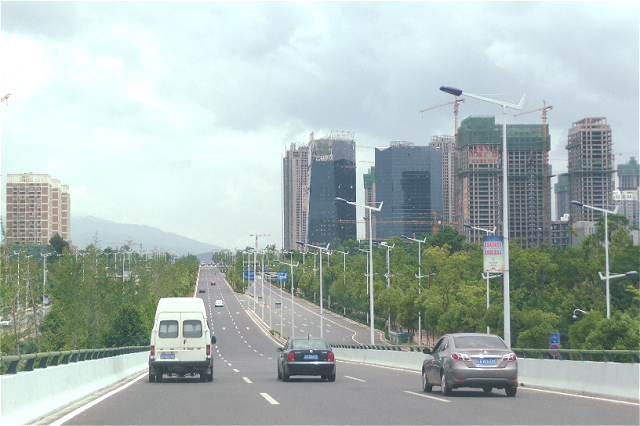 Kunming-Chenggong expressway (Image: Medihal)
From changing buildings to changing behaviour
For Chenggong residents, the city is now easier to walk around, but there are also doubts.
Zhou wonders if the narrower streets will cope with the increased traffic as the population increases: "There are lots of traffic lights, lots of roads with only one lane in each direction, and while some four-lane roads have had two lanes converted to parking, actually parking isn't very easy."
But Zheng thinks this type of layout encourages residents to walk when possible, rather than drive, and so reduces reliance on cars. He points out that although a denser road network does have more junctions, traffic is more spread out.
"Reliance on cars is a cause of congestion. Perhaps over time a denser road network will change how residents travel and think about transportation," Zheng said. He added that denser road networks have been proven to reduce congestion in cities with large numbers of cars.
Commercial and residential developments are closer to public transport, with plenty of retail outlets. Residents can make the most of their journeys on foot, by bike or by public transport – and so fewer car journeys are required.
Replicating Chenggong
The changes in Chenggong aren't an isolated case; thinking on urban design in China is changing.
Following the Chenggong project, a number of trial cities across China started cooperating with Calthorpe Associates, an urban design and planning firm involved in remodelling Chenggong, and the Energy Foundation on planning.
These include Chongqing's well-known Yuelai eco-city; Changsha's Huangxing Exhibition Economic Zone, Xiamen's Jinfu Bay New City, and Beihai's Beizhan TOD New City.
The implementation of a combination of transit-oriented development and smaller neighbourhoods with denser road networks will provide experience for other cities in the future.
Recent guidance issued by the State Council in 2016 on better urban design also indicates that the government is rethinking current approaches.
"We must be aware that obvious problems exist in management of urban planning and construction: a lack of foresight in urban planning… blind pursuit of expansion… inadequate provision of public goods and services, environmental pollution, congestions and other 'urban diseases' are worsening."
Liu Shaokun, deputy China head of the US Institute for Transportation and Development Policy, says that good urban planning doesn't necessarily mean expanding outwards. A modern city needs good planning, but also the appropriate urban management to ensure planning is implemented and everything operates smoothly.
The guidance is that future urban design will be based on a denser network of narrower roads. However, a smooth implementation of this in Chinese cities will need the appropriate changes in policy and ideas.
Chenggong has put the infrastructure in place, but can it realise its full potential? Can the same thing be done in other cities? Chenggong has revealed some answers, but left many more questions.