Kathmandu – At the border town of Rasuwa Ghadhi in Nepal, hundreds of trucks are waiting for the call to enter Tibet.
The truck drivers, carrying goods between Kerung in Tibet and Nepal's capital Kathmandu, have no idea when that call will arrive.
"We let them cross the bridge if the Chinese ask us to do so, otherwise we stop them," says Dhruba Shrestha, an assistant officer with the Nepal Armed Police Force who is deployed on the border.
Rasuwa Ghadhi is currently the only route into Tibet from Nepal. After the earthquake in 2015, China decided to close the Kodari route into Nepal and replace it with the mountain crossing at Rasuwa Ghadhi, but the infrastructure on the Nepal side is poor.
No one except truck drivers with citizenship cards from Rasuwa, a district on the Nepal-China border, can enter Chinese territory through this point, unless they have a special visa from the Chinese Embassy, which is no easy task. Nepal's immigration office used to provide a one-day pass to Nepalis but this was halted a few months ago.
Less than 100 metres from the small security post, with its zinc roof and sheet fence, Rasuwa Fort lies silent. It was built by Jung Bahadur Rana, the former Prime Minister of Nepal who invaded Tibet in 1855. Just next to the fort, which was severely damaged by the earthquake, Nepal's revenue office also lies in ruins.
This place has become an important exit for the Chinese government's ambitious Belt and Road Initiative (BRI), also known as One Belt, One Road (OBOR) and the New Silk Road.
This particular stretch will connect Nepal with all of South Asia as well as Central Asia via the Qinghai-Tibet railway, which is just 500 kilometres away in Shigatse. China is working to bring trains to Kerung (also known as Gyirong/Kyirong) by 2020, just 24 kilometres away.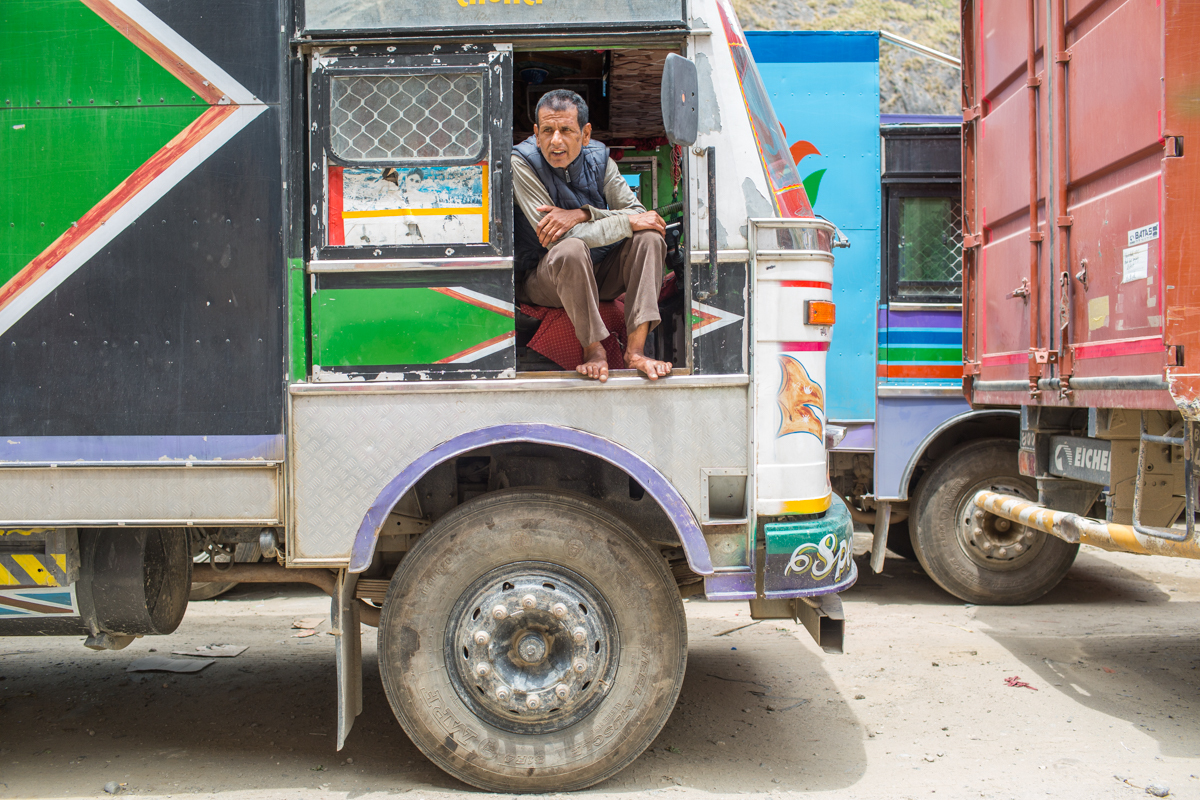 Rana Bahadur Lamichhane has been waiting at Rasuwa Ghadhi to enter Tibet for two weeks (Image: Nabin Baral)
Gridlock
"It's been two weeks and I have been waiting to enter and hoping to get through today, if not tomorrow," says Rana Prasad Lamichhane, who owns and drives a truck. The wait has become a regular part of the journey since the Kodari border closed, leaving dissatisfied drivers with little to do but sit around and drink tea.
The local authorities are seriously frustrated by the Nepali government's lackadaisical attitude to managing the only exit to Tibet. One security officer uses every curse word in Nepali to express anger at the poor management of his government.
"Look, those Chinese across the border, how well managed they are, we don't even have a toilet, let alone other facilities," he says, speaking under the condition of anonymity.
Another security officer recently sustained a serious leg injury after a boulder rolled down from an earthquake-weakened cliff. Remains of the landslide are visible all around. There are even rumours that dead bodies remain trapped in the rubble. Tension here is building.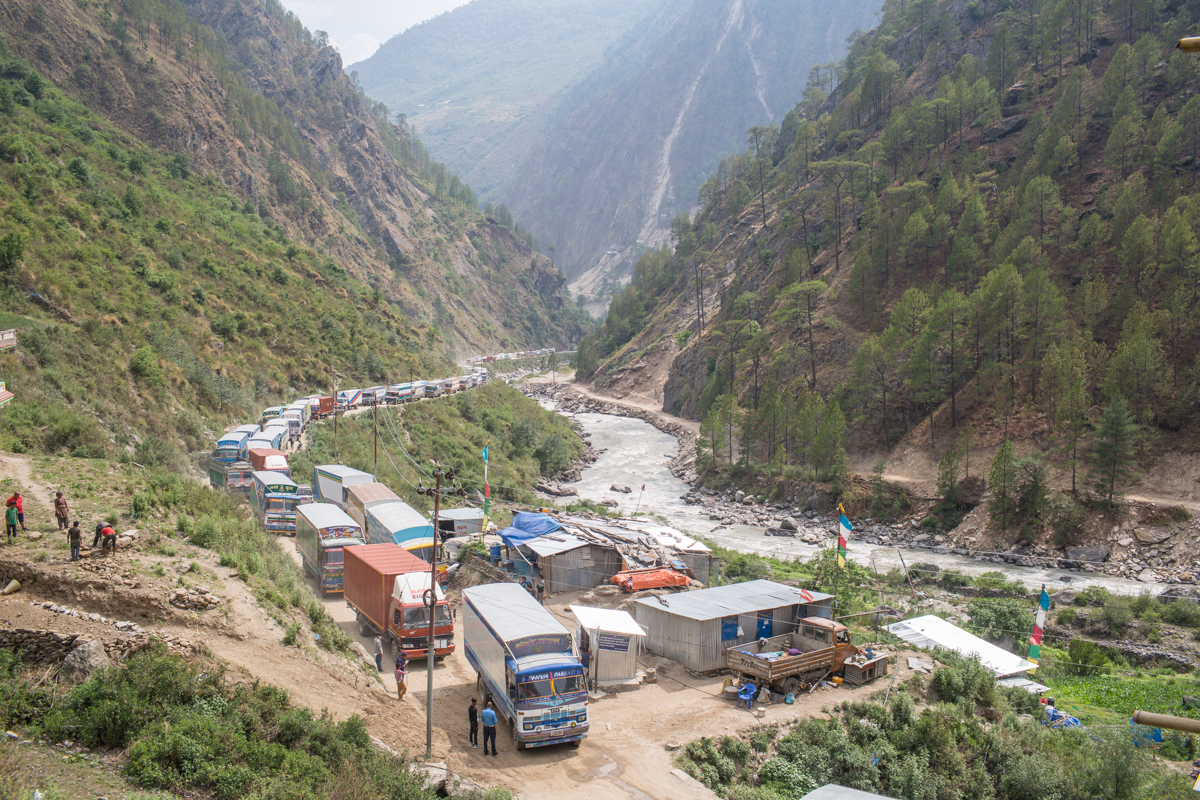 Trucks queue up in Timure, three kilometres from the Nepal-Tibet border to get clearance from Nepal's security force (Image: Nabin Baral)
Nepal's rail dream
When Britain ruled India it established the first rail service in Nepal in 1927 on its south-eastern border to transport timber to India. After timber supplies diminished the railway began carrying passengers instead. This operation was shut down in 2014 though because of poor maintenance and profitability.
Following the end of British rule there has been limited rail development beyond Nepal signing the Trans Asian Railway Network agreement in 2006, to build a railway between Europe and China's Pacific ports.
Currently the country has no functioning rail service. But on paper at least, there are big plans.
Nepal's new 20-year railway development plan aims to build 4,000 kilometres of rail service, including tracks from the northern Tibetan plateau to the flood plains of the Ganga in India.
It includes plans for a new seven-storey building in Kathmandu where the government has recently set up a Railways Department.
According to Prakash Upadhyay, the department's spokesperson, "We are doing a detailed study of [an] east-west railway. Out of six rail linkage tracks provided by India, two will be in operation in southern Nepal probably next year. We have written to the Chinese government to select an appropriate company to study a Kathmandu to Kerung railway, which we are hoping to start soon."
In a small, landlocked and mountainous country sandwiched between two giant economies, railways were never a government priority. But this changed when China extended its rail network through the tough terrains of Tibet to Shigatse, later announcing an extension to the railway to the Nepal-China border by 2020.
"If the Chinese say they'll do it, they do it. They will bring the rail to Kerung," says Santosh Nepal, a local truck driver in Rasuwa Ghadhi who frequently drives to Kerung. He has seen the work that the Chinese are doing and is impressed.
Nepali officials are also hopeful it'll happen. "We were too focused on roads in the past but linking northern mountains with the southern plains via rail is not an impossible task and we are confident that this will become reality soon," says Upadhyay, who adds that a service across the southern border is expected to open next year.
While railways on the northern border are on the horizon, lines on the southern border are scheduled to operate by next year. "We have been constructing new rail tracks in southern bordering area and it is very likely that the country will have [an] effective rail service by early next year," says Upadhyay with confidence. When finished the new track will link Kerung to Kathmandu.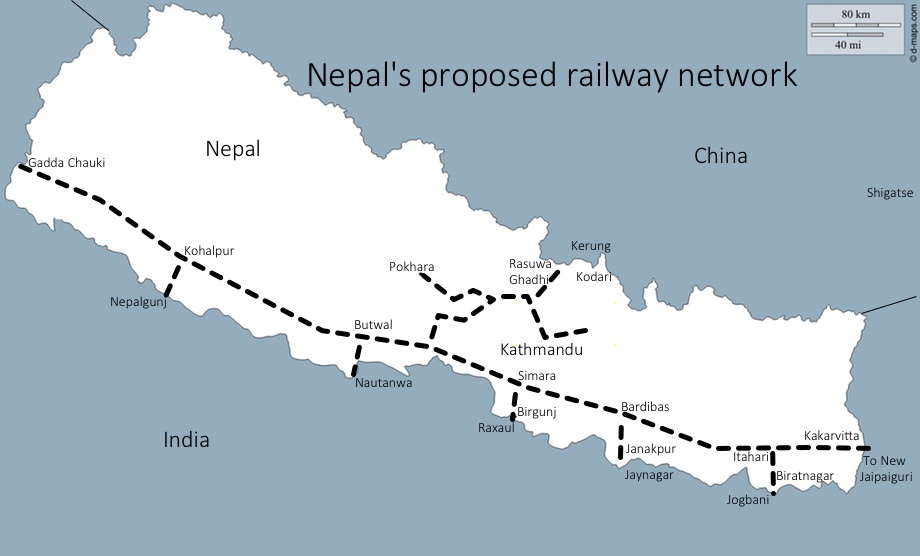 Nepal's proposed railway network (Image: China Dialogue)
BRI yet to hit the ground in Nepal
Three kilometres from Rasuwa Ghadhi in Timure, a makeshift immigration office has been set up in a flat, granting Nepali visas for Chinese visitors on arrival.
"There is huge prospect of tourism through this. Chinese are travelling to Nepal but our government lacks seriousness. I don't need to say anything as you have already seen the way we have been handling the border" says Khub Raj Shrestha, the assistant immigration officer in Timure.
A group of Chinese tourists enter the cramped room that's so small others must vacate to make space. According to Shrestha, about 1,300 Chinese tourists crossed the border in April alone but the rate will slow down in September ahead of the start of the monsoon season.
While north-south connectivity and BRI may be all the rage in the capital, the Nepal government's snail-paced road maintenance works after the 2015 earthquake has left many locals sceptical of the government's ability to deliver.
"I don't know if they are bringing rail, nobody tells us anything," says Norcho Gurung. She operates a small hotel on the first floor of her building where she rents the second floor to the government for use as the immigration office.
Nevertheless, excavators can be seen crawling up the hill for road expansion work. The Nepali Army is working to open up the tough track from Betrawati to Syafrubeshi, along the Trishuli River, just 17 kilometres from the Chinese border.
The track is expected to be completed this year, or next year at the latest. This will be the section of the road that connects the Tibetan border in the north to the Prithvi highway that links Kathmandu to the southern part of the country and to India.
Broken diplomacy, can trains fix it?
"If Nepal is connected by Chinese railway network, it can be linked with Europe by land route," tweeted Leela Mani Paudyal, Nepal's ambassador to China, following the signing of a Memorandum of Understanding between the countries.
But working with the Chinese authorities to make good on the plans will be a challenge. Nepal wants the backing of India, its southern neighbour, and its political support to help it implement its new 2015 constitution.
However, relations between the two countries have been complicated since the constitution's promulgation. India has reiterated that dissenting voices from the southern plains on issues such as citizenship need to be included in the document.
A blockade of goods entering Nepal was linked to these protests and led then Nepali Prime Minister K P Oli to draw closer to China, inking deals on issues such as a historic transit trade treaty. Agreed in principle during that time, the BRI was officially endorsed by the Nepal government in May 2017.
"China may have hidden interest behind OBOR but we shouldn't hesitate to take advantage of this initiative for that reason alone," said Rabindra Adhikari, chair of the Parliamentary Committee on Development.
India is already concerned about the BRI, viewing the China-Pakistan Economic Corridor (CPEC) as a violation of its sovereignty because the project operates in the disputed territory of Pakistan administered Kashmir. India attempted to convince Nepal and Bangladesh not to join the initiative, but to no avail.
Indeed, some argue that India's efforts are futile.
"There is no point in India's sniping and nit-picking at the Chinese OBOR project and pressuring neighbours like Nepal not to sign up to it. It only makes India look mean, spiteful and backward-looking," wrote Dipak Gyawali, Nepal's former water minister.
Nepali proponents have another reason to be hopeful that India will eventually join the mission.
"Technocrats in India know the value of linking Kerung in China to the Indian rail network, as this is the most appropriate route to connect to the Trans Asian railways," said Upadhyay.
Among three rail networks under the Trans-Asian Railways (TAR) scheme from Asia to Europe, Nepal falls to the southernmost. The country is also a major link between Shanghai and Moscow. The southern network links Hong Kong and Singapore to Spain via India and Iran.
"We are strategically in a very important geo-location and can act as a bridge between two major trans-Asian railway networks," added Upadhyay.
Though India and China are at loggerheads over the BRI, politicians in Nepal remain optimistic.
"Once a rail connection with China is established, Nepali goods can be transited to international markets through the Eurasian transport network, which is vital if we are to overcome our geopolitical constraints. All of South Asia can benefit from this network," said Adhikari.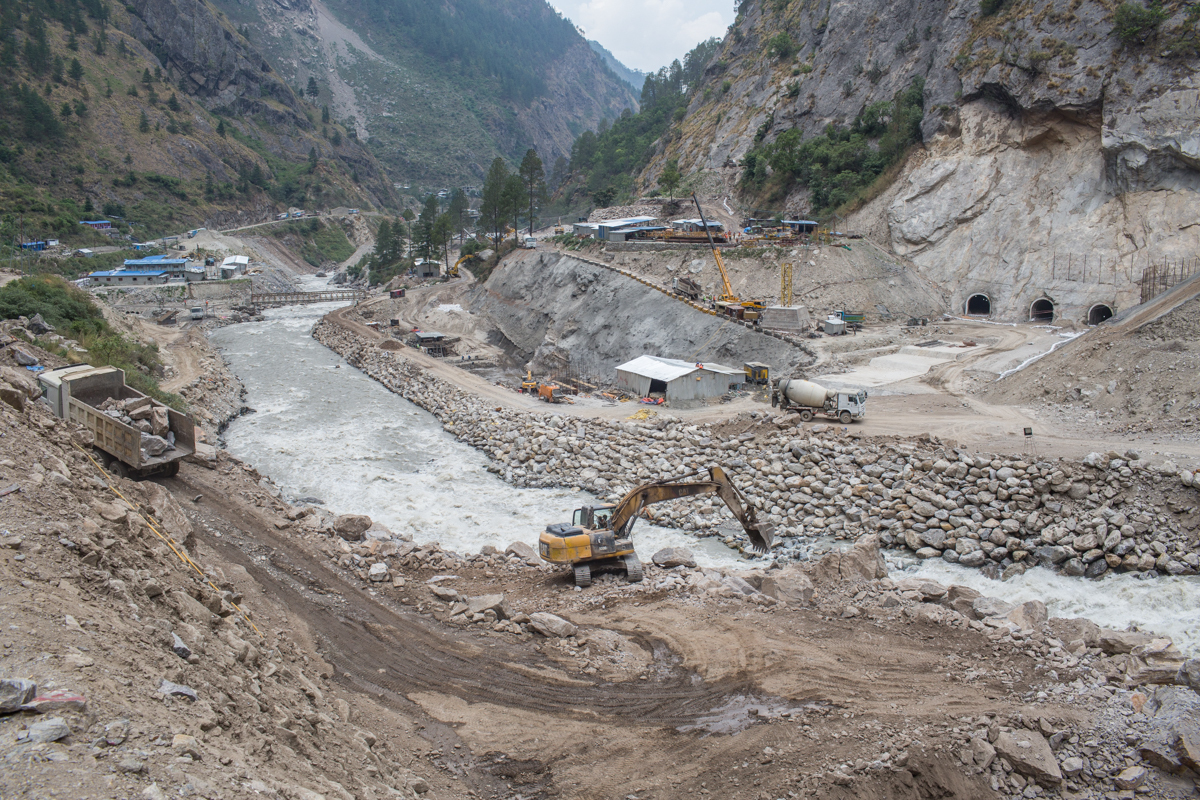 Rasuwa Ghadhi hydropower project under construction by China (Image: Nabin Bara)
Challenges emerge
Although rail and roads have already crossed the lofty mountains on paper, many challenges lie ahead. Landslides are not uncommon on the geologically fragile and earthquake prone route from Kerung.
Thanks to the promise of Chinese investment, financial constraints are less of a concern than technical ones, according to officials.
The railways department says that about 90% of the Kathmandu-Kerung railway is likely to be formed of bridges or tunnels.
"We have technical challenges on our side but it is not impossible to connect Kathmandu with Kerung, However, it is not as easy as linking Kathmandu with Birgunj on the southern border," Upadhyay said.
Nepal's inadequate expertise and experience in rail construction has already become a major issue. It has been seeking support from its neighbours and nurturing talent to work in this sector.
"I am also a highway engineer but have been assigned now to work on railways," Upadhyay said. "We don't have expertise on railways. So, for us, it is learning by doing. As the department has been just set up, human resources is the priority now," he added.
The line to China will pass through one of Nepal's most popular tourist destinations – the Langtang National Park. Nepal is often cited as an illegal trade corridor of wildlife parts from South Asia to China and vice-versa. Park officials are concerned about the railway plans, facilitating the trafficking of protected species.
"We are aware and a bit worried. This year we are planning to establish a separate wildlife check point at the border as an effort to curb the problem as mobility has already increased through this route," said Yubraj Regmi, chief of Langtang National Park.
Due to political turmoil, Nepal has not held local elections for two decades. Since the country abolished its 239-year old monarchy and declared itself a republic, it has been run by appointed bureaucrats. Until this year, when local elections are being held in three phases, with the final phase taking place on 18 September.
Previously, there have been some serious communication gaps between the government and local residents. Newly elected politicians are hoping to remedy this and are excited to cooperate with the national government on agendas such as BRI.
"There has been very little information or discussion with the local communities regarding [BRI], says Kaisang Tamang, the mayor of Gosainkunda Gaunpalika, which adjoins the Chinese border.
"But we have come through [with a] people's mandate recently; we are all set to play our role."
Key dates in Nepal's railway history
1927: Construction begins on the Raxaul Amlekhgunj Railway. Operated until 1970.
1937: The 51-kilometre Jaynagar-Janakpur-Bijalpura (NJJR) stretch began operation but in 2000 was limited to Janakpur after the Bighi Bridge was washed away.
2006: Nepal signed Trans Asian Railways (TAR) agreement.
2008: East West Electrified Railway Project office established.
2009: Feasibility study of East-West (945 km), Kathmandu-Pokhara (187 km), Anbukhaireni-Bharatpur link (72 km) completed.
2010: MoU between Nepal and India signed for cross border railway connectivity at five different locations
2011: Department of Railways established
2012: Feasibility study of Kathmandu valley metro rail completed
2013: Detailed Project Report of Simara-Bardibas and Birgunj link completed (136 km)
2014: Construction starts on the Bardibas-Lalbandi section
2017: Nepal becomes a member of the China-led Belt & Road Initiative
A shorter version of this article was originally published on The Third Pole