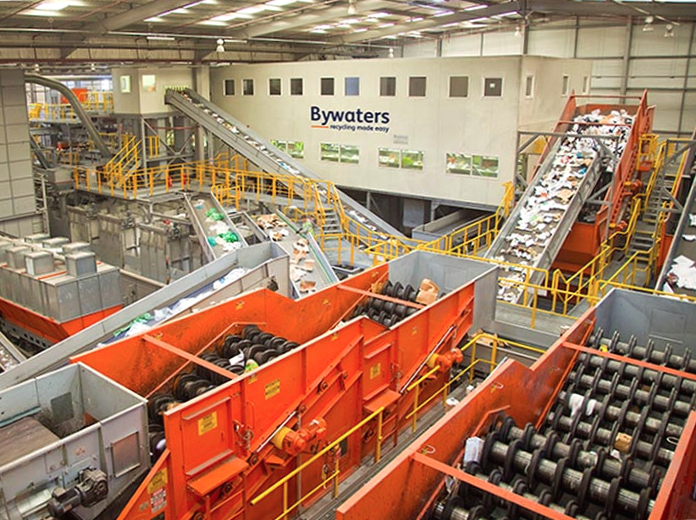 The way developed countries export their waste has been brought sharply into public focus since China slammed the doors of its vast reprocessing market. This has coincided with a growing public horror at the harm plastic waste is having on the environment, which is forcing policymakers to act and the waste industry in many countries to overhaul their practices.

One such country is the United Kingdom, which relies on exports to deal with its waste. Since 2002, the quantity of packaging waste exported for recycling from the UK has increased six-fold, while that dealt with domestically remained the same. In 2017, China received 25% of the UK's plastic waste exports, followed by Malaysia, Poland and Turkey, which took 11% each, according to data from the UK's public spending watchdog, the National Audit Office (NAO).

But by the first quarter of 2018, after the first waste restrictions came into force, China took only 3% of the UK's plastic waste. Instead, plastics were exported to Malaysia (17%), Turkey (16%), Poland (12%), Indonesia (11%) and the Netherlands (9%).

Changing markets

This rapid change of waste markets has led to fears that many of the developing countries taking extra waste from developed countries are ill-placed to cope with it. Many, particularly in Southeast Asia, do not currently have waste management systems to deal with the waste generated in their own countries.

In the past few months UK waste exports have been big news. For example, mixed plastic packaging from British recycling bins has been discovered at multiple illegal dump sites in Malaysia. And 45 containers of UK waste have been repatriated from Poland after inspectors found illegal mixed waste inside.

Some of the new developing world markets have started to follow China and impose their own restrictions on waste imports. Vietnam stopped issuing waste import licences in January 2018, while Thailand announced that it will no longer accept plastic waste from 2021. The Malaysian government announced in October that it would prohibit imports of plastic waste within three years.

The UK waste industry is confident that it can adapt to fluctuating markets. Adam Read, external affairs director at waste and recycling company Suez, says that it had halted exports to China six months before the restriction came into effect.

"There was an enormous amount of due diligence so we could see what was appropriate, and where we could be confident about the quality of processing. It wasn't just a whimsical decision to stop sending to China one day and send it to Malaysia the next," he says.

This might be more difficult for smaller companies, as Suez could easily visit potential waste processors and discuss future plans with them, he acknowledges. Some markets are being swamped by material that is not as high quality as they were hoping for, which is why they are now cracking down in a similar way to China, he believes.

Government strategy

Still, the UK government is conscious of the impact of illegal waste export scandals on its international reputation and of the increasing restrictions on other countries taking UK waste. The fact that it is about to leave the EU, from which it has taken its lead on waste policy in recent years, is another factor in its decision to develop its first waste strategy in a decade, the outline of which was published in December.

In the foreword, environment secretary Michael Gove wrote: "The consequences of every country's behaviour are seen and felt across the world… Nations such as China are no longer prepared to accept lower quality waste materials; nor indeed should this nation be offshoring its waste for others to deal with."

The strategy attempts to deal with the problem of waste exports from several angles. One tranche of policies aims to reduce the amount of waste exported. This includes mandating producers of packaging waste to pay the full costs of disposing of what they place on the market, instead of the current 10% contribution.

This should significantly boost funding for new collection and reprocessing infrastructure, which has been hampered in the past by volatile prices and low margins for most types of plastic waste, according to Pat Jennings of the Chartered Institute of Wastes Management (CIWM).
Some illegal waste ends up going to countries like Malaysia

A tax will be introduced for plastics that do not contain recycled content of at least 30%. This should create demand for secondary plastics, which have seen limited uptake because they are often more expensive than virgin plastics, Jennings said. Some £40 million will be provided for research and development of innovative technologies and solutions to reduce plastic waste.

There will also be reform of the system under which producers of packaging waste prove that they have met their obligations to recycle waste. A current loophole means that export is incentivised over domestic use, since there is no need to prove that 100% of what was exported is recycled.

Although the strategy was largely welcomed by both the waste industry and campaign groups, many believe it will take up to five years before the changes have been finalised, come into force and bedded in.

"Everything is moving in the right direction, but … the tightening of export markets will happen more quickly than measures to stimulate reprocessing in the UK. That is going to continue to cause problems for waste contractors and local authorities," Jennings says.

Waste crime

Another set of policies aims to crack down on illegal exports of waste from the UK, such as the mixed waste found in Malaysia. "The export of mixed waste is illegal, full stop," Jennings says. "The trouble is enforcing that. UK regulators can't open every container, and there is some illegal waste that ends up going to countries like Malaysia."

The Environment Agency, which regulates waste exports, has suffered severe budget cuts in recent years, and has struggled to maintain inspections. In 2016-17, it had a target to carry out 346 visits to recyclers and exporters, but only managed 124, according to the National Audit Office report.

Last year, it admitted that it had been forced to divert staff from waste inspections to dealing with pollution incidents related to the hot weather. The agency now says that it will double inspections of sites identified as "high risk" for non-compliance with packaging waste regulations, and will target 160 site inspections, compared to 80 in 2018.

Adam Read reports that increased funding to tackle waste crime is having an effect. "We're seeing more inspections, more agency staff, more intelligence. There's a lot more joined-up work between some of the agencies than there was before. It's good for those of us who are a bona fide brand, we don't want people who short change the system," he says.

Simon Ellin, chief executive of UK trade body the Recycling Association acknowledges that there was a need to crack down on waste exports to ensure only quality material is sent to other countries. But he stresses that the amount of poor-quality, illegal waste being exported is low.

"We need to get it in context – exports to developing countries are well established, and most of it is compliant… The domestic waste management systems in developing countries are appalling, and they are the major contributors to the ocean plastic that we're seeing," Ellin says.

Beyond the UK

A third strand of the waste strategy is intended to help this. The government has created the Commonwealth Clean Oceans Alliance (CCOA) to encourage Commonwealth governments to take action such as banning microbeads. It has also committed up to £66.4 million of UK aid to tackle plastic pollution, £2.4 million of which will go to the Global Plastic Action Partnership.

The partnership, which is also funded by large corporations including Pepsico and Coca Cola, has already announced a project in Indonesia. The country's government has a plan to reduce plastic waste by 70% over seven years, and the partnership is seeking local solutions by 2020 that can be shared with other countries. Other projects will be announced in West Africa and a small island developing state in the next few months, according to the UK government.

Read welcomes the recognition of the need to support developing countries improve waste management systems but warns that new systems can be hard to embed. Having worked on such programmes in a previous role, he says that local politics and corruption often gets in the way.

However, Libby Peake, senior policy advisor at environmental think tank the Green Alliance is more optimistic. "The initiatives will help develop basic waste infrastructure. The real gain will be to stop plastic going into the oceans – a lot of the land-based plastic waste entering the oceans comes from South east Asian countries because the facilities are completely lacking there."

Jennings says of the £66.4 million: "It's almost certainly not enough money, but it's a substantial amount and I think we will start to see that money bring benefits."